Hazmat team responds to Ind. crash involving truck carrying hydrochloric acid
First responders were concerned the acid would contaminate a nearby river or come in contact with damaged power lines
---
By FireRescue1 Staff
ELKHART COUNTY, Ind. – A hazmat team responded after a semitrailer carrying hydrochloric acid crashed on a busy road in Indiana.
The truck went off the road and struck several trees, knocking down branches that fell onto power lines, according to WSBT.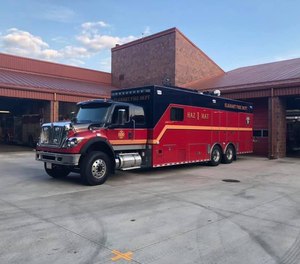 "Once we got here, we noticed that the placards were showing flammable as well as corrosive materials," said Bristol Fire Chief Nik Kantz. "It was a pretty damaged trailer. There were things leaking out, liquid leaking out of the trailer."
Responders were also concerned the acid could leak into a nearby water channel that leads into the Saint Joseph River.
The Elkhart Hazmat Team worked with the Bristol firefighters and the freight company to control the leak.
"We set up a unified command inside our new command center of the new hazmat rig along with RL Carriers, that were there with their mechanics (and) staff and they told us how to break into the truck," said Hazmat Coordinator Chaz Taylor.
Once the hazard was contained, a cleanup crew was brought in to clear the road of chemicals.
The condition of the semitrailer driver was not reported.
BREAKING

BREAKING: At 7 a.m. a tandem semi carrying hydrochloric acid on SR 120 between CR 17 and CR 19 ran off the road and hit 2 trees. One of the trees fell into the road. Bristol Fire called in the Elkhart Haz-Mat team to contain the acid leak and clean it up. Initially concern was the possibility of the acid leaking into the St. Joseph River. That is taken care of. Traffic is backed up from County Road 19 to CR 17.

Posted by WSBT-TV on Tuesday, December 10, 2019

Request product info from top Hazmat Equipment companies
Thank You!