How to make a quick vehicle stabilization chock
---
This quick chock is comprised of two pieces. The first piece is a platform of three or four 4×4 cribs, 18 inches long, screwed and glued together with a top plate of ½ plywood screwed on top of the platform.
The second piece is a 6×6 or 4×6 wedge, approximately 18 inches long. The quick chock is also placed under the vehicle like step chocks, with the platform being the base and the wedge driven in between the platform and the vehicle underbody.
Here's a diagram: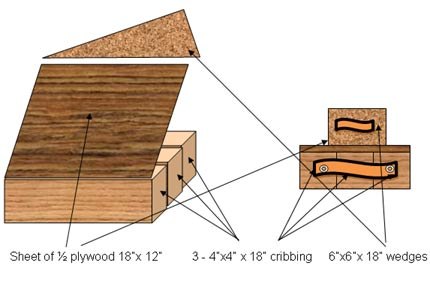 You can build these easily in the station. This allows for rapid set up and a flexible approach. Depending on ride height and vehicle damage, you can add or subtract parts to fill in space to stabilize the vehicle. The nice thing about the entire system is it's flexible, fast and easy to apply.
We should always ensure the vehicle is stabilized, even if the drive train is on the ground; we can use the wide wedges behind the front tires and slide the platform and wedge in front of the rear wheels.
Not only does this give us flexibility, but we can place our stabilization flush against the vehicle and actually place more contact with the vehicle and the ground.
Read more about this chock and how to use it in FireRescue1's Extrication Today column.