PRESS RELEASE
FireRescue1.com Releases New iPhone App for Firefighters
---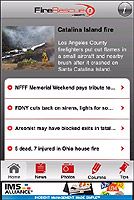 SAN FRANCISCO , CA – FireRescue1.com, a leading online resource for firefighters, today announced the release of its first application for the iPhone and iPod Touch. The FireRescue1 app is available for download for free in the Apple application store and provides firefighters with breaking fire news, as well as photos, tips and FireRescue1's full archive of expert columnist articles.
The creation of the FireRescue1 app addresses the evolving habits of first responders, who are increasingly reliant on their mobile devices for accessing news and other resources while serving in the field. Whether firefighters need to research a specific fire topic while on the move or just want to browse the latest news at the station, the FireRescue1 app provides access to a level of mobile content that has never been available to them before. 
"With this new app, we are furthering our commitment to deliver firefighters the tools they need to stay up to date and safe on the job," said Kris Kaull, Online Director for FireRescue1. "We are excited to be able to take advantage of evolving mobile technologies to deliver timely, mission-critical information to firefighters while they are on the move."
FireRescue1.com will be launching similar applications for other mobile devices – including BlackBerry and Android – in the coming months. FireRescue1's sister site, Police1.com, launched a similar iPhone app in July 2010, which has now received over 25,000 downloads. More information on the Police1 app can be found here: http://itunes.apple.com/us/app/policeone/id379387096?mt=8.
To download the FireRescue1 app for free from iTunes, visit http://itunes.apple.com/us/app/firerescue1/id393737837?mt=8

About FireRescue1.com
With more than 210,000 registered members and 350,000 monthly unique visitors, FireRescue1.com serves the firefighting community by providing firefighters with the most complete range of information and resources available. FireRescue1 is supported by the Praetorian Group, the proven leader in online public safety resources. The experience and resources of the Praetorian Group has yielded a trusted and reliable online environment for the exchange of information between firefighters and departments from across the Unites States and around the world.

For information on advertising with FireRescue1, visit our advertising section online at www.firerescue1.com/fire-market-advertising/.