8 reasons to wear a Euro-style helmet
The MSA Cairns XF1 firefighter helmet is built for all of today's emergencies
---

By Robert Avsec for FireRescue1 BrandFocus
For many fire departments, response to structure fires represents an exceedingly small percentage of their emergency responses. Those same fire departments are responding to greater numbers of call for motor vehicle crashes with victim extrication, wildland urban interface fires and situations that require tactical rescue operations (e.g., trench, high-angle rescues).
So, why do the overwhelming majority of firefighters and officers still wear a traditional-style fire helmet – a helmet style first designed circa 1836 in New York City (e.g., a Cairns New Yorker or Houston leather helmet), a composite helmet in the same style, or a more modern style helmet (e.g., a Cairns Metro or similar models from Bullard, Phenix, or Fire-Dex)?
It certainly can't be for functionality. Not with a high profile – a Cairns New Yorker is 8.7-inches tall – that hinders movement in confined areas, a rear bill that's constantly bumping into their SCBA cylinder as they crawl while advancing a hose line or when they look upward. And then there's the weight: 4.4 lbs. for a New Yorker and 3.5 lbs. for a composite traditional helmet.
Today's firefighters don't wear rubber raincoats or three-quarter boots for turnout gear like their predecessors did 60 years ago, so why do they still wear the same helmet that firefighters wore in the 1940's?
A New Generation of Firefighter Helmet
A new generation for firefighters in the U.S. and Canada anyway. Fire departments around the world have been using the "Euro-style" helmet for decades to more fully protect their head during their duties from the wide variety of hazards they face.
Enter the MSA Cairns XF1 firefighter helmet, a helmet designed to not only provide a greater level of protection for a firefighter's noggin but also increase their level of comfort and overall safety. Here are 8 ways the XF1 Firefighter helmet does that (and why you should consider it for your firefighting helmet):
1. Better weight distribution. With a traditional style helmet, all the helmet's weight is on top of a firefighter's head, but with its wrap-around design the XF1 evenly distributes the helmet's weight; it not only lightens the load on top of the head but reduces torque on the neck.
2. Better ergonomics. The XF1 helmet was engineered as much for comfort and fit as safety. The most obvious feature is what it lacks – no rear brim! With no brim, there's less risk for snags when working in close quarters and a firefighter can forget about their helmet's brim butting against their SCBA cylinder. Plus, the helmet's accessories, like lighting and communications, can be integrated seamlessly into the design, resulting in a sleeker profile.
3. More protective coverage. The helmet provides 360-degree protection for a firefighter's head from physical hazards, not just those from above. An added benefit is that the helmet's encapsulating design provides a degree of hearing protection from the noise pollution present on emergency scenes.
4. Better customization of the fit. The size of the headband may be adjusted to fit the wearer's head by using the ratchet adjustment system. The rear ratchet arms have three (3) adjustable positions so that the angle of the ratchet may be set to accommodate the back of the firefighter's head. The headband height is adjustable at the front of the helmet via sliding friction tab to provide additional comfort to the wearer and maximize compatibility with the SCBA facepiece. A better fit is not only more comfortable, but it also prevents pressure points from developing, even after an extended period of wear.
5. Easier to decontaminate. With its easy-to-clean modular design, a firefighter can quickly disassemble the XF1 for thorough inspection, care and maintenance. All the helmet's soft goods are removable, washable and replaceable without the use of tools. MSA has engineered all these features so that firefighters using the XF1 are aligned with the cancer prevention directives from the Firefighter Cancer Support Network.
6. Better radio communications. When equipped with an optional integrated communications package the XF1 provides a firefighter with a higher level of clarity for radio communication. The communications module fits easily within the XF1 helmet and doesn't affect wearer comfort. The speakers are located near to the ear to create a more conducive environment for hearing critical radio communications.
The flexible, noise-cancelling electric boom microphone can be used with or without a firefighter's SCBA face piece and doesn't require batteries. This is a good feature because a firefighter always has their helmet on but may not be using their SCBA facepiece. It is also available with a one or two speaker option.
7. Better face and eye protection. With its integrated face shield the XF1 provides a gap-free, full-face protection when you need it – even when a firefighter is wearing their SCBA facepiece – and hidden retraction when you don't. The face shield gives a firefighter an unimpeded, wide field of vision in all directions and is designed to fit most face shapes, even for those firefighters wearing corrective lenses.
When you still need eye protection, but not necessarily full-face coverage, the XF1 can be fitted with an optional pull-down option, the ocular visor. The visor is ANSI/ISEA-compliant eye protection and articulates forward/backward to optimize fit across a wide range of facial profiles with or without corrective lenses.
8. Better lighting. With an optional integrated lighting feature, the XF1 can give a firefighter both front and side illumination to reduce snag hazards – no need for a firefighter to strap a flashlight to their helmet with a rubber strap – and improve their situational awareness. The lighting package features a compact light accessory that's housed inside of the helmet, reducing exposure to heat, flames and impact. Its unique side placement on either side of the helmet rather than at the top of the helmet improves visibility without detracting from the vision of other firefighters working nearby.
The Competition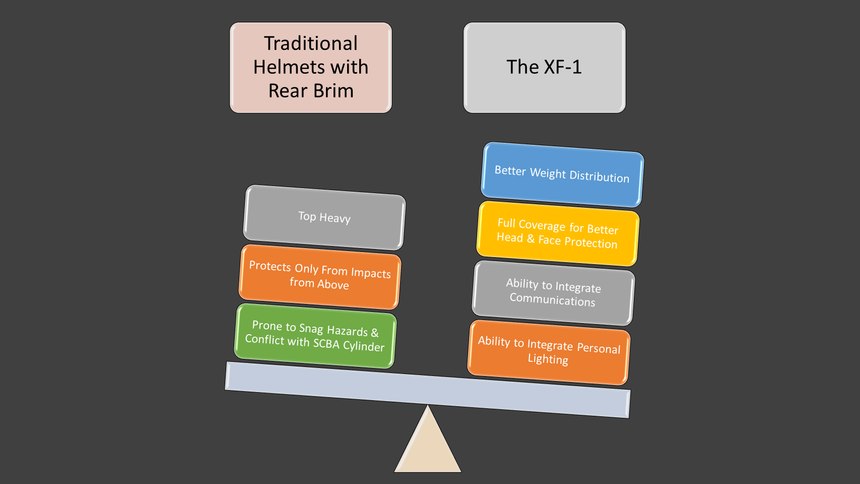 ---
Just about every aspect of the XF1 has been engineered to provide increased protection for the firefighter's head and neck, more evenly distribute the helmet's weight and reduce potential snags. Eye and face protection, personal lighting and communications (the latter two available as easily installed options) are all contained inside the helmet or integrated into its design. The result is sleek and seamless design that meets the safety and comfort requirements of today's firefighters.Nomex, was first developed by DuPont in 1961, and made its way into firefighter protective clothing nine years later. Since then, the structural firefighting protective ensemble (PPE) has undergone quantum leaps in the protective capabilities for firefighters.
Today, the fabric elements of your PPE (i.e., coat, pants, hood, gloves, and even boots) are constructed with the most advanced fire-resistant fabrics (e.g., Nomex, Kevlar, PBI) and provide firefighters with the highest level of protection in history. Shouldn't the firefighting helmet that you use have a similar level of innovation and technology?
See what firefighters really think of the XF1 firefighting helmet:

Request information from Witmer Public Safety Group, Inc.
Thank You!