How to find firefighting products you can trust
"Firefighters Choice" products are recommended by firefighters for firefighters
---
By FireRescueOne BrandFocus staff
Back in the day, buying firefighting gear was simple. A salesman would show up at your department and show you one kind of boot (usually rubber), one kind of helmet, one kind of glove. Maybe you were lucky and there was a store nearby that sold the gear you needed, but the options were limited.
The advent of the internet and ecommerce changed everything when it came to buying fire gear.  Suddenly, firefighters had options. For example, need a new pair of boots? Now you chose from rubber, leather or hybrid, manufactured by a dozen different companies, each with unique features and benefits, and available on twenty different websites. But which boot is perfect for you, and how can you be certain the website you are buying from is representing the product accurately?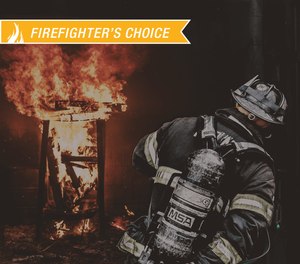 The irony of the digital age is that the vast explosion of consumer options has also resulted in an erosion of consumer trust. And product trust is almost non-negotiable for first responders. With lives on the line, the gear you are using had better live up to expectation.
TheFireStore recently launched a program designed to cut through the digital clutter and provide first responders with short list of hand-selected products. They call their seal of approval "Firefighters Choice."
Founded over 20 years ago by a volunteer firefighter, TheFireStore is staffed by active first responders who have first-hand knowledge of the products they sell. As the fire equipment industry grew and more products became available, the employees of TheFireStore were among the first to realize that too many options could be overwhelming. 
When buying products for themselves, they began asking their colleagues, "what do you recommend?"  This simple question eventually became an internal survey, shared among all the men and women in the company who were volunteer first responders. The survey helped to consolidate the hands-on experience of the company's employees and answered questions related to quality, performance and value. TheFireStore is now sharing the results of the internal survey with its customers on their website, with the goal of adding trust back into the online shopping experience.
Here are a few Firefighter Choice products that have been proven to be the most reliable and well suited for the job. 
Streamlight is one of the most recognizable names in portable lighting for the emergency scene. As a manufacturer, they are tried and true, with a long history of being a great solution for firefighters' lighting needs. (What firefighter hasn't had a Streamlight product in their hand at some time?)
They are also an industry leader in advancing technology and applying it in a meaningful way to keep first responders safe.
Coupled with their reputation for standing behind their products and providing great customer service and you're got a solid manufacturer of several Firefighters Choice designees.
These Streamlight products earned the Firefighters Choice designation:
The Vantage II Helmet-Mounted Light – an enhanced version of the original with a low profile and minimal weight, making it a good fit helmet light without neck fatigue.
The Portable Scene Light – harnesses the features of Streamlight and takes them to a bigger scale while being compact for storage and easy to use.
Cairns has long been synonymous with quality firefighter helmets. Along with a tradition of being an established manufacturer with a reputation for reliability, Cairns helmets are known for classic good looks along with comfortable wear.
The 1044 offers the classic look of leather in a lightweight composite that was ranked highly for comfort and durability. Its three-position, rear-ratchet height adjustment and overhead strap suspension system ensure a secure and comfortable fit, well-balanced construction that helps relieve head and neck fatigue. As one reviewer noted, it is extremely heat resistant and "stands up to a beating."
Cairns' other helmet that earned the Firefighters Choice designation is the N5A New Yorker. Made of high-grade leather, it looks like the iconic firefighter helmet of your childhood dreams. Each New Yorker leather helmet is hand-crafted, shaped, stitched and trimmed to last for years with minimal maintenance. It meets current OSHA requirements and its soft goods are removable and replaceable for cleaning in accordance with cancer prevention practices and provides advanced thermal/impact and penetration protection.
Haix may be an unfamiliar name in the U.S., but the German-owned company has been producing high-quality work boots in Europe for over half a century. Haix boots are worthy of the reputation of German engineering for luxury quality that's worth every penny.
Made in Europe from top-quality materials, Haix boots for men and women are sturdy yet lightweight and built for multiple tasks.  The fit is customizable thanks to a side zipper and laces, making them easy to don and doff while offering fatigue-fighting comfort enhanced by temperature-balancing climate control features.
The Haix Airpower XR2 EMS/Station Boot for men and women is a Firefighters Choice for station boots but keep an eye out for more winners from Haix.
As former and current firefighters, TheFireStore team does not offer their seal of approval lightly. They know from experience that product failure is not an option. The faith they place in their Firefighters Choice products is based on their personal experience in life or death situations.   
See these and all the Firefighters Choice products here.

Request information from Witmer Public Safety Group, Inc.
Thank You!