January 2010 Product Round Up: Helmets
---
FireRescue1 is focusing on news and information about Helmets and Accessories throughout the month of January. Check out some of these Helmets currently on the site:
Disclaimer: The products and companies in the below Round Up are sponsors of FireRescue1.com. Their inclusion in this article is for informational purposes only and does not represent an endorsement by FireRescue1 or its editorial staff.
You Need to Think About the Safety of Others More Than You Need to Think About Fixing Your Flashlight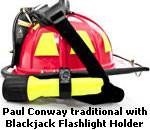 The Blackjack Flashlight Holder keeps your flashlight securely fastened to your helmet. Built from aircraft grade 6061 aluminum, not stamped stainless steel or thermoplastic, so it can stand up to the same punishment that you do. Its superior under brim patented design securely holds the light on the helmet where you put it, where you need it. It's highly adaptable and fits most firefighting helmets, both traditional and modern styles. Call 888-222-9118 or visit www.blackjackholder.com.
Get Advanced FYR-Glass Shell Technology: the Ben 2 Plus Traditional Helmet from Morning Pride by Honeywell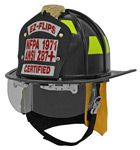 For Structural FireFighting Operations, our Ben 2 Plus Traditional and Lite Force Plus Modern helmets both offer you the most advanced FYR-Glass shell technology. Both helmets feature improved internal components, better fit and ride, a full choice of NFPA 1971, 2007 Edition and/or OSHA compliant eye protection systems, and dozens of custom options. There is no assembly required on our Morning Pride standard products. For more information, visit www.morningpride.com or call 1-800-688-6148.
Get Compliant with Cal & U.S. OSHA Series Helmets from Phenix Technology



The 1500 Series 2007 Edition shell's circumference is 1/8" larger while the outer appearance is visually unaffected. The machining of our new shell incorporates current technology while keeping the integrity of the Phenix First Due at the highest level. Another improved feature is the "molded slot fitting" where the chinstrap attaches. The universal chinstrap attachment is now featured in ALL Phenix helmets. For more information visit www.phenixfirehelmets.com or call 1-888-347-7838.
The American Classic™ Fire Helmet from Lion Apparel Features Both Classic Style and High Performance



The American Classic™ fire helmet combines the looks of a traditional-style helmet with the lighter weight and high-performance protection of its modern-style counterparts. The fiberglass shell employs exclusive patented TherMax™ composite technology to ensure thermal protection, light weight, and structural integrity of the entire shell. RTM molding provides color pigmentation throughout for lasting good looks. Additional thermal protection is provided by the Classic's removable thermal insulator and thermoplastic liner. For more information, visit www.paulconwayhelmets.com or call 1-937-898-1949.
Get Extreme Durability with the Cairns® 1010 Traditional Composite Fire Helmet from MSA



DuraGlas® fiberglass and high-temp composite resists cracking and chipping and provides a perfect combination of durability and performance in a lightweight, high-performance design. Features a non-corroding, high temperature, glass-filled polymer faceshield/goggle hardware. The ultra high temperature (TPR) edge trim will not melt or drip. A Nomex chinstrap with one-hand quick release buckle and postman slide allows quick and easy adjustment. An exclusive SCBA interface front headband adjustment matches the fit of any SCBA mask and the three-position rear ratchet height adjustment ensures a secure and comfortable fit for all head sizes between 6-3/8 and 8-3/8 inches. For more information visit www.msafire.com or call 1-877-MSA-FIRE.
For more information on Helmets and Accessories, visit the FireRescue1 Helmets Section at www.firerescue1.com/fire-products/helmets.