The next generation of helmet-mounted flashlights for firefighters
The Streamlight Vantage II offers several advantages
---
By Robert Avsec for FireRescueOne BrandFocus
Many firefighters from different generations remember having a helmet that looked like the one below.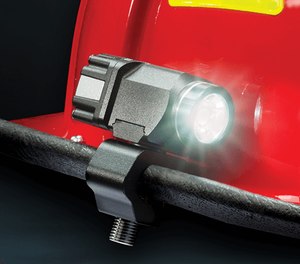 The Garrity disposable flashlight. The wooden sprinkler chocks. The rubber strap cut from an old truck tire innertube. The look was right out of FDNY Firefighter Dennis Smith's landmark book, "Report from Engine Co. 82."
The Garrity flashlight was a fire service staple for many years, but let's be honest, it wasn't designed for the heat and physical abuse that interior structural firefighting could inflict upon it. How good was it really at penetrating a smoky room during a primary search?
In the past, firefighters have had to contend with issues related to helmet-mounted lights like:
Neck strain caused by the weight and footprint of bulky hand-held lights strapped onto the helmet.
Light failure from the extreme heat and water saturation inherent to firefighting applications.
Safety hazards from bulky helmet light brackets becoming entangled with wiring or drop-ceiling components.
All of these issues have resulted in innovations being made to help contend with potential risks. Meet the next generation of firefighter helmet-mounted illumination – the new Vantage II from Streamlight, one of the most trusted names in portable illumination for the fire service. Streamlight's design of the Vantage II puts high quality illumination at your fingertips in a package that helps reduce the issues that firefighters experience with helmet-mounted lights.
At 2.37 inches (6.01centimeters) and just 3.65 ounces (103.5 grams), the Streamlight Vantage II is smaller and lighter than other helmet-mounted lights on the market.  Such a small footprint, durable construction and lightweight significantly:
Reduces the potential for a snag hazard
Assures long life in challenging conditions
Maintains balance of the helmet and reduces potential neck strain.
The Vantage II meets requirements of NFPA 1971-8.6 (2013): Standard on Protective Ensembles for Structural Fire Fighting and Proximity Fire Fighting. Its durable, anodized aluminum construction enables the Vantage II to withstand the impact of being dropped from a height of 3.28 feet (1 meter). It also has an IXP7 rating that gives it a classification of being waterproof for up to 30 minutes to a depth of one meter.
But, this next generation of hands-free lighting tool for the fire service is more than just the smallest and most rugged helmet-mounted light on the market. It's also powerful and versatile where it counts: illuminating your work area.
The Vantage II's features include:
High mode of operation that delivers: a 118 meter (388 foot) beam with 350 lumens and 3,500 candela for over 2.25 hours
Low mode of operation that delivers an 80 meter (263 foot) beam with 135 lumens 1,700 candela for up to 5 hours
Bright blue taillight LED that ensures you can be seen even from behind
A "safe off" feature that prevents accidental activation and saves power for when you need it most
A custom optic that produces a narrow light beam with optimum peripheral illumination
A solid-state power regulation that provides maximum light output throughout the life of the included CR123A lithium battery
An integrated mount and hex key that enables the user to easily and securely mount the Vantage II on their helmet either below or above the helmet rim
The Vantage II from Streamlight represents the next generation of helmet-mounted illumination. Much more than a flashlight, it addresses the needs of today's firefighters.
No more being left in the dark.