The next generation of particulate-blocking firefighting hood is here
Gore's GEN2 particulate hood exceeds NFPA-1971 requirements while offering comfort and reliability without impairing hearing
---
By Robert Avsec for FireRescue1 BrandFocus
When the 2018 edition of NFPA 1971: Standard on Protective Ensembles for Structural Fire Fighting and Proximity Fire Fighting was published, one of the more noteworthy additions was the optional requirements for manufacturers to work with in developing particulate blocking protective hoods for firefighters.
The driving force behind that addition was, and continues to be, the growing awareness across the fire services in the U.S. and Canada about the skin absorption risk that firefighters face from soot and other particulates during interior structural firefighting. Part of that increasing awareness was the recognition of the limitations of legacy protective hoods to prevent those contaminants from penetrating the hood's fabric.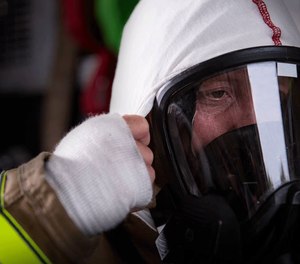 The 1st Generation of Particulate Hoods
It took no time for the protective fabric professionals at W. L. Gore & Associates to collaborate with their partners at Majestic Fire Apparel, a leading manufacturer of fire apparel (including those legacy protective hoods) to join forces and create the first NFPA 1971-compliant particulate-blocking hood in 2017: the GORE Particulate Hood.
According to Lon Edelman, a strategic marketer with Gore, developing moisture barriers and particulate-blocking layers for the different components of the structural firefighting protective ensemble has been Gore's focus over the years. The evolution of the protective hood to incorporate protection to prevent particulate intrusion was a natural extension of that work, but with a twist.
"Whether it was for the coat or the pants or the gloves, we've never just taken what worked in one component and used it in another," said Edelman. "Our product developers have always looked at what the particular needs were for a component, say firefighter gloves, and then designed the best possible solution."
When Gore's fabric design engineers set out to develop the right barrier for a new generation of particulate-blocking hood, they started at the beginning to create a unique protective fabric. A fabric that could not only comply with the requirements of NFPA 1971, but also could provide a hood that firefighters were comfortable wearing and be reliable.
The GORE Particulate Hood GEN2
That first-generation particulate hood was a great success, but Gore and Majestic are two companies that consistently seek to make their products better. So, those fabric design engineers at Gore went back to the drawing board and developed an even better barrier fabric and hood design for Majestic to use in the manufacturing of the GORE Particulate Hood GEN2.
So, what's there to know about the GORE Particulate Hood GEN2? For starters, there's the improved comfort. Gore's new barrier fabric and new hood design provides a more natural feel without compromising the protection you need. And the GORE Particulate Hood GEN2 has an even higher level of breathability than its predecessor hood and that means a reduction in heat buildup and a reduction in potential heat stress for you.
And there's better protection from particulate intrusion. The GORE Particulate Hood GEN2 not only exceeds the thermal protection requirements of NFPA 1971, it also exceeds the standard's particulate-blocking requirements with a protective barrier that blocks 99.99% of potentially harmful particulates 0.1 to 1.0 microns in size (NFPA 1971 specifies that a protective hood should stop at least 90% of particulates that size to be considered particulate blocking).
Finally, the GORE Particulate Hood GEN2 delivers its reliable protection throughout the entire hood – even blocking smoke at critical seams more effectively than other particulate hoods currently available.
The Impact of Noise
Firefighters have expressed concern that adding the particulate-blocking layer to their protective hood would affect their ability to accurately and timely hear fireground communications and sounds.
So, Gore conducted its own performance-based testing to determine if firefighters wearing either of its particulate hoods would experience any negative impact on their ability to hear fireground sounds and voice communications. Qualitative and quantitative results from Gore's testing indicated both its legacy particulate hood and the GEN2 did not compromise the test firefighters' abilities to hear:
A PASS device activation.
A low-air alarm from their SCBA.
Requests of gross motor skills (e.g., take a knee).
Requests of fine motor skills (e.g., raise two fingers).
A series of commands given in a loud voice.
A series of commands given in a softer voice (e.g., conference-room volume).
Reliability
Like its older sibling, the GEN2 hood retains its particulate-blocking performance level (99.99%) even after laundering. And the hood's inspection opening – another unique innovation –enables a firefighter to inspect the entire hood visually, inside and out.
Prevention
The GORE Particulate Hood GEN2 is available in contrasting colors – white or black on the outside and blue on the inside, making it virtually impossible to don the hood incorrectly, thus helping to prevent cross-contamination.
The GORE Particulate Hood GEN2 combines Gore's expertise in comfort and barrier technology with the protective hood manufacturing skills of Majestic Fire Apparel, one of the most respected hood producers in the business today.
So, what's under your helmet?

Request information from Witmer Public Safety Group, Inc.
Thank You!