Rescue solution: ZOLL's RescueNet Link
Emergency data integration system looks to streamline fire and EMS data
---
By Scott M. Bruner 
FireRescue1 Product Editor
RescueNet Link is the newest system offering for ZOLL's RescueNet Data Management Suite, a group of software applications that integrates fire, rescue and EMS data. It features a number of different software applications that can handle data from the time of a rescue call all the way through payment.
RescueNet Link is the newest application to be bundled with the suite and demonstrations were given during EMS Today in Baltimore. It is an application that is deployed in an ambulance and allows for the integration of data collected from all of the resources throughout the vehicle.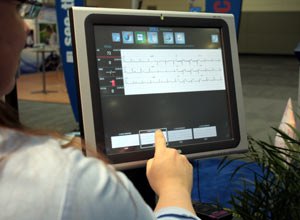 "This is the first technology that streamlines data from multiple resources in the ambulance during patient care into a single view which can be shared with the receiving hospital," Amy Smith, director of integration for ZOLL, said. "The power of RescueNet Link is the 'Sense and Sync' technology that allows the medic to focus their attention on the patient without having to worry about managing technical data collection while providing care."
The new RescueNet Link application collects data from three sources, two of which are applications also included in the RescueNet suite. The first is the RescueNet Navigator app, which is a GPS-driven MDT system. Second, it collects data from the E Series, a rugged, EMS defibrillator and monitor with advanced CPR capabilities. Finally, it collects data from RescueNet's ePCR system – a NEMSIS Gold compliant electronic care reporting system.
RescueNet Link is able to provide the information it collects simultaneously to a number of locations: through MobileLink to the touchscreen data terminal in the back of the ambulance and to the hospital through a secure Web site, FieldLink. By using information from the 12 lead, it can also provide up-to-the minute EEG information and vital statistics.
RescueNet Link also collects and provide information on the ambulance's ETA, destination route and current location. It has the ability to "auto-pair" system components when they are within range of each other.
RescueNet Link, as part of the RescueNet suite, is embedded in all ZOLL monitor and data products. By using the RescueNet suite to integrate data, emergency service providers are able to use ZOLL as their single provider for support.
All data sent from the ambulance is encrypted.
The entire RescueNet Suite of applications has the ability to integrate an entire pre-hospital chain of events for one EMS or fire system.
RescueNet Link is pending 510(k) approval. Visit www.zoll.com to learn more about RescueNet Link as it is released.