Software aids on-scene analysis
---
By Cristi Laquer
FireRescue1 Staff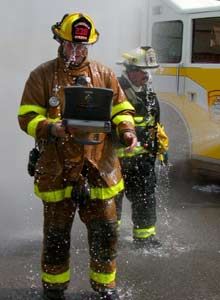 Photo Defense Group, Inc.
FALLS CHURCH, Va. — To be prepared for anything, first responders need to have as much information as possible on hand at an incident scene. This is especially true for hazmat or CBRN incidents, which can involve obscure chemicals that require specialized knowledge to handle.
Computers are quickly replacing the manuals, folders and notebooks incident commanders use to find and organize information on scene.
"Having this information allows responders to identify the incident based on the information they're perceiving — what are the symptoms of the people effected? What does the substance look like? — and determine what the response is," said Neil Cohen, Defense Group, Inc. director of business development.
Finding information
The Virginia-based company produces CoBRA (Chemical Biological Response Aid) software, and has released version 4.3 of the product, which is updated to include diverse tools from an interactive periodic table of elements to a detonator reference database for explosives.
The information in the CoBRA databases comes from traditional paper manuals such as the NIOSH Pocket Guide and the ERG.
Cohen said the latest version includes additions brought about by specific requests from responders, such as the periodic table.
"If it's open source or it's available, we're putting it in there – it's sort of a stew," he said.
Searching through databases is designed to streamline the process of finding relevant information and save time over the older method of finding and flipping through various books, according to Cohen.
Organizing information
The software also provides automated forms to help incident commanders wrap up incidents more quickly, Cohen said, coming with standard ICS and NIMS forms.
The 4.3 update includes a custom form creator to help responders automate checklists or other processes.
"Many responders have a process they go through after they take off their PPE such as checking blood pressure or body temperature," Cohen said. "They can customize a form to automate that."
Forms can also be customized as checklists to ensure all equipment is returned to the firehouse and examined for damage.
Networking on scene
The update also features the first step toward fully networked on-scene collaboration — a scrolling notification ticker.
"Right now the ticker is relevant if you have one command post and people with laptops," Cohen said. "A commander could type a message that would be broadcast to all those with networked computers."
A version of the software with collaborative versions of more tools is due out in early 2009.
On the web: CoBRA Software/Defense Group, Inc.