PRESS RELEASE
ImageTrend's Patient Tracking Solution Extended to Android Platform
---
Lakeville, MN - ImageTrend, Inc. has announced the release of an Android-based version of their Patient Tracking Mobile system. The company's Patient Tracking Mobile system was designed for versatility and ease of use, and due to the familiar interface of the Android platform, requires minimal training for users. Data collected by the new system is synchronized with the ImageTrend Resource Bridge for near real-time availability to all emergency command and response personnel. Resource Bridge permanently stores the information in a centralized repository where it can also be accessed for auditing and accountability.
Patient Tracking Mobile on Honeywell Dolphin 7800 AndroidThe new version of Patient Tracking Mobile has been tested for compatibility on Honeywell's new Android-based Dolphin 7800 mobile computer. This rugged device combines the versatility and familiarity of the Android platform with the durability and superior scanning ability of Honeywell devices, making patient data collection in the field faster and easier than ever before. The new Patient Tracking Mobile application can also run on a variety of mobile devices that operate on the Android platform version 2.3.3 or newer.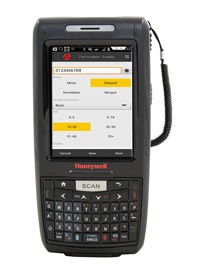 "We believe in helping clients achieve their goals," said Craig Rees, Product Evangelist at ImageTrend. "We listen closely and take the time to develop products that customers will find useful in the field."
ImageTrend's Patient Tracking Mobile for Android began as a "Hooley Day" project, where members of the ImageTrend community compete to develop a project of their choosing during a 24-hour time period. The project was selected as one of the winners and later became a finished product. Contact ImageTrend at sales@imagetrend.com for more information about Patient Tracking Mobile for Android or to check if your device is compatible.
About ImageTrend, Inc.
ImageTrend, Inc. is an award-winning software company in Lakeville, Minn., devoted to maintaining a high level of innovation, excellence and quality in its products, service and community. ImageTrend's Web-based applications serve a variety of industries, including government, medical, human resources, business, education and non-profit organizations. ImageTrend combines business analysis, creative design and database-driven architecture to offer the best web applications and strategies.