PRESS RELEASE
Somerset Township Fire & EMS Announces Selection of Aladtec's EMS Manager for Online Employee Scheduling
---
Switching from a simple computer calendar to EMS Manager eliminates time consuming manual scheduling and ends overtime expenses.
Somerset Center, MI - By making the move to an online employee scheduling system Somerset Township Fire & EMS increases efficiency and reduces labor costs.  "With EMS Manager, our crews simply input their availability, then we create the schedule and members are allowed to switch shifts as needed.  Before, they had to write down their availability and hand it in on a piece of paper so the schedule could be created manually.  If they wanted to switch shifts the schedule had to be redone," explains Fire Chief, Scott A. Friess.  "Also, with EMS Manager we don't have any OT costs.  This is because the system automatically tabulates everyone's hours as the schedule is created, and you can see everyone's hours at a glance."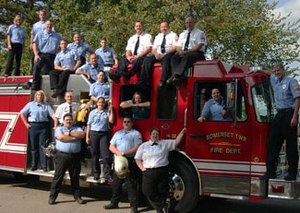 Chief Friess indicates he often uses EMS Manager's mobile web application on his smartphone to view the schedule and check to see who's working.  He finds the mobile app to work just as well for him as his desktop version.  EMS Manager's web app works on any smartphone, or other mobile device, with internet access so it's available 24/7/365.
Although there are many good online employee scheduling programs available, EMS Manager has many features and benefits that are tailored specifically to the emergency medical services sector.  These features include: certification tracking; regulatory report capabilities; and EMS news feeds.  In addition, administrators find the system improves communication within the department.  "I can now send an email, or text, to all our members instantaneously.  Before I had to send each email and each text individually to our 31 members, which took a lot of time," Chief Friess says. "We are very happy we chose EMS Manager, it saves us time and money."
Somerset Township Fire and EMS is located in Somerset Center, Hillsdale County, in Southern Michigan.  The agency serves nearly 5,000 people over a 36 square mile radius. 
Aladtec, Inc. is a proud provider of web-based software solutions for online employee scheduling and workforce management applications. The company's flagship products, EMS Manager and FIRE Manager, are leaders in the public safety sector. Together with their newest product, Zanager, they serve over 900 EMS agencies, fire departments, police departments and other businesses. Over 56,000 employees use Aladtec's online employee scheduling and workforce management products. Aladtec is headquartered just outside the Minneapolis/St. Paul metro area in Hudson, Wisconsin. For more information, visit
www.aladtec.com
.