PRESS RELEASE
Tablet Command announces in-app audio streams for firefighter situational awareness
---
Leading mobile fireground management solution continues to innovate
INDIANAPOLIS, Ind. — Tablet Command, an emergency response management solution for the fire service, will demonstrate new functionality today at North America's largest firefighting conference, FDIC International.
Tablet Command's mobile incident command applications increase situational awareness, speed incident response, streamline incident management, and improve firefighter safety and accountability. This newest audio capability allows users to access multiple audio streams and maintain situational awareness, even while away from the radio.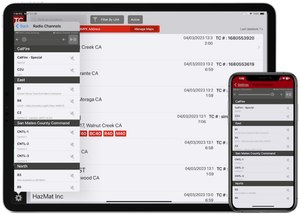 "Tablet Command makes several technologies available through one platform," says Chief Mike Taylor of the Sacramento City Fire Department. "This is another example of that. Having everything at our fingertips really keeps things simple for us."
On display at FDIC, and part of the newest update, is the full range of new controls firefighters have to fine-tune their audio streams. Within Tablet Command, users from the fire service can group streams logically and make them easy to navigate. Categories like Dispatch, Command, Tactical, and Air to Ground keep the audio sources organized. Firefighters can play, pause, and adjust the volume of different streams to make sure they're getting the right information without unnecessary noise.
Any MP3 or MP4 audio stream with a distinctive link will work, and Tablet Command's TC Streaming service allows departments to initiate new streams. Support from TC Streaming allows firefighters to get consistent access to the audio information they need.
"I'm excited about the new capability," continued Taylor, "and even more excited that Tablet Command is committed to constant evolution. Their team's connection to the firefighting community and willingness to adapt to our needs is their biggest strength. I know they'll keep up with evolving agency needs. They're a trusted partner for us because you can just tell they're in it for the long haul."
Firefighters can learn more about Tablet Command and all of its features online. Those attending FDIC International 2023 can explore the technology in person at Booth 13131.
About Tablet Command
Tablet Command provides the industry-leading Mobile CAD, emergency incident response and management solution to more than 24,000 users and 570 public safety agencies across the United States and Canada. Tablet Command software solutions enhance safety and operational efficiency for emergency responders on the ground by providing comprehensive, real-time information under a single pane of glass. Tablet Command also records operational performance data as a byproduct of the incident management process. This data, and the insight it can provide, have never before existed in the public safety sector. For more information, please visit www.tabletcommand.com
Media Contact:
Matt Wolf
Publicist
(520) 390-1985
Matthew.wolf23@gmail.com

Request more info from Tablet Command
Thank You!