FRI 2023: Product demonstrations, innovations from the exhibit hall floor
More than 300 vendors made their way to the Kansas City Convention Center to showcase the latest and greatest fire service products
---
KANSAS CITY, Mo. — For the first time since 2002, firefighters, exhibitors and sponsors converged on Kansas City for Fire-Rescue International 2023.
More than 300 booths were organized on the exhibit hall floor at the Kansas City Convention Center, where representatives showcased the latest in fire and EMS technology and innovation.
Check out our round-up of products from the exhibit floor, and share what solutions you were able to find to solve concerns back home. Do you have a favorite product you discovered while at the show? Send us your feedback!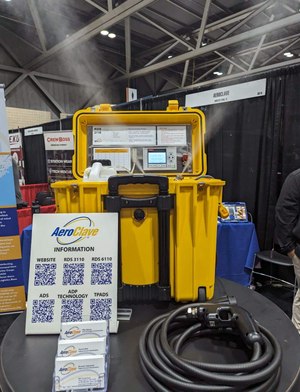 Aeroclave decontamination technology: RDS 3110
Disinfect rooms, vehicles and equipment with AeroClave's RDS 3110, which uses an EPA-approved, hospital-grade disinfectant to decontaminate at the push of a button.
The RDS 3110 can be utilized in three different ways:
Facility fogging
Hand application
Port technology
Additional specs:
48 pounds
Self-contained
No set-up
Environmentally friendly
Learn more about the RDS 3110 and other AeroClave products here. 
Handy Hook
Designed and patented by Sedgwick County (Kansas) Fire Department Firefighter Nathan Helten, the Handy Hook allows firefighters the ability to keep their gloves safely attached to their gear, as well as a hands-free option for donning the gloves.
The Handy Hook is designed to:
Securely stow and don gloves
Streamline and expedite the process of exiting the bunk area during emergencies
Cater to the demands of fire operations

To learn more about the Handy Hook, visit www.myhandyhook.com.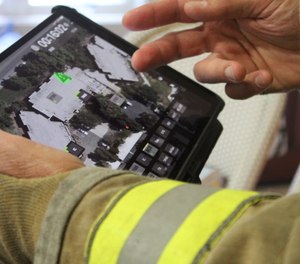 tablet command's incident command tools
With the simplicity of a whiteboard, Tablet Command provides real-time data and resource management in an intuitive application platform.
Designed and co-founded by firefighters Wiliam Pigeon and Andy Bozzo, Tablet Command supports fire chiefs by reducing risk and stress through improved situational awareness. With access to better information, leadership can feel confident in their decisions and the safety of their units.
Learn more about Tablet Command in this 90-second overview.
North American Rescue's Tommanikin Simulator
The TOMManikin from North American Rescue is a wireless medical trauma simulator designed to provide realistic training scenarios for EMS and fire personnel related to Tactical Combat Casualty Care. The devices provide:
All-in-one hyper-realistic trauma simulations
Multiple interchangeable extremities
Solid metal bones and joints
Silicon skins available in light, medium or dark skin tones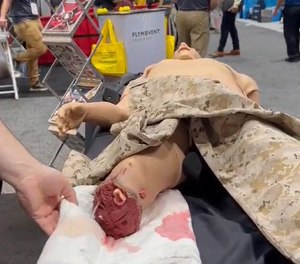 The TOMManikin offers four clinical intervention focus areas for first responders to train on:
1. Massive hemorrhage
Tourniquet application (proximal, junctional and abdominal)
Active bleeding control through direct pressure on pressure points, including wound packing
2. Advanced airway
Nasopharyngeal/oral/supraglottic airway insertion
Endotracheal intubation
Surgical airway and tissue dissection with realistic bleeding
3. Respirations
Chest seal application
Bilateral needle decompression
Chest tube capable
4. Circulation
CPR chest compressions
Antecubital IV access on uninjured upper limbs
IO (sternal & humeral)
Visit the North American Rescue website for more information about TOMManikin and other products. 
AEMC Instruments Static Ground Test System Kit
The Static Ground Test System Kit was designed to improve safety at hazmat scenes for first responders by providing a comprehensive, all-in-one system to test for static electricity.
The kit from AEMC Instruments complies with recommendations in NFPA 472 and assist with grounding and testing prior to hazardous material transfer.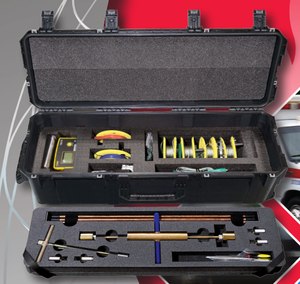 The Static Ground Test System Kit includes:
For the Meter:
2 150-foot color-coded leads on spools (red/blue)
1 30-foot lead (green)
2 14.5" T-shaped auxiliary ground electrodes
One calibration checker
Batteries
User manual
Additional accessories:
6 threaded copper-clad 3-foot ground rods
4 ground rod couplers
1 50-foot bonding cable with REB clamps
3 50-foot grounding cables, with an REB clamp on one end and Mueller clip on other end
6 10-foot ground rod jumper cables with Mueller clips on both ends
1 ground rod driver/extractor tool
Waterproof utility carrying case with wheels and handle
Learn more about the Static Ground System Test Kit at www.aemc.com.
---
For additional news and highlights from the show, visit FireRescue1's FRI 2023 resource page.

Request product info from top Fire Incident Management companies
Thank You!