Making technology work for you instead of against you
This platform helps ensure consistent and reliable communication when it matters most
---
Sponsored by Pulsara
By Courtney Levin, FireRescue1 BrandFocus Staff
Think about the last 10 conversations you had with someone who wasn't standing right next to you. There's a pretty good chance you communicated through text, FaceTime, social media messaging or even a good old-fashioned phone call. It's highly unlikely you sent them a page, much less a fax.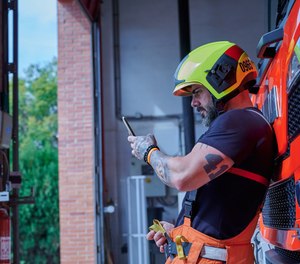 Today's communication technology has grown in leaps and bounds. We have confidence that our voicemails are heard and our texts are read, but older methods of communication can leave the sender wondering if their message was received.
When so many millions of people use their smartphones to relay simple information – "Remember to stop at the store to buy milk on the way home" – why would first responders continue to trust older technology to communicate vital information?
"You don't know what you don't know," said Brandon Means, vice president of medical operations at Pulsara. A career paramedic and flight nurse, he was formerly a firm believer in using radios to relay critical patient data.
"I thought our radios worked fine – until they didn't," he explained. "They may be working fine on my end, but on the other end, it may sound garbled. There's a reason we use modern technology in our daily lives. Firefighters, paramedics, nurses and physicians push back and say, 'No, my pager works fine.' Well, there's also a reason they don't use their radio to call their child riding their bike down the street. It's just not reliable or consistent."
A NEW WAY OF COMMUNICATION
When fire crews are dispatched to a call, they're tasked with assessing each individual involved and communicating patient data to providers downstream. In many instances, they achieve this through radio use – risking the chance of their transmission going unheard – or phone calls to hospitals and physicians – which doesn't always result in timely or consistent communication.
By using modern technology, fire crews can ensure patient data is transmitted and received during every incident with the Pulsara platform. In a matter of a few seconds, first responders can open the Pulsara app on their smartphone, start a patient channel and include identifying patient information, injury photos, ECGs and a wealth of other data points. Audio and video calls can be initiated from the scene and alerts can be sent to nearby hospitals.
"The flexibility a smartphone gives you versus being limited to a one-way blast page or radio transmission or waiting on hold for a busy ER nurse to answer is huge," said Means. "From a reliability standpoint, more cell towers are going up every day. I think mobile communication today is as bad as it will ever be, meaning it only gets better every day. The technologies we have historically used – radios and pagers – no one's pumping money into that infrastructure anymore."
PRIORITIZING PATIENT OUTCOMES
While it makes sense on paper to use more modern methods of communication, the idea of changing a first responder's usual routine is often met with skepticism. Years ago, Means was one of those first responders.
"Before I came to work for Pulsara, I was a paramedic and flight nurse, and I used Pulsara in the field," he explained. This was many iterations of the platform ago when Pulsara was used only for STEMI and stroke patients. At the time, Means' agency was still communicating regularly using radios and phone calls.
"I was one of those naysayers," he said. "I was like, 'Oh, great. It's one more thing I have to do.' And it felt additive, like it wasn't taking anything off my plate – or so I thought, until we used Pulsara for a few very sick patients. I immediately saw the outcome and the value of Pulsara, and that's when I became a believer."
At the end of the day, it's a first responder's job to provide the highest quality of care to every patient they encounter. Means explains that as a firefighter or paramedic, prioritizing the safety and well-being of the crew is equally as important as making sure each action they take is good for the patient.
Pulsara allows fire crews to achieve both goals by streamlining communication using modern technology, giving first responders more time to assess and treat patients before they are transferred to the next provider. By using Pulsara patient channels to relay critical data in real time, patients can receive more immediate care the moment they arrive at the hospital.
TRANSPARENCY LEADS TO IMPROVEMENT
Fire crews can use Pulsara in a range of scenarios, from a patient with stomach pain who is near a hospital to a high-acuity patient 40 minutes away to a mass casualty incident with multiple injured individuals. In each situation, the platform provides first responders with consistency and flexibility while also adding a layer of transparency to patient care.
"If you want to hold people accountable, you must have transparency," said Means. "Paper logs, radio logs – those go off into oblivion and there's no way to QA those."
With Pulsara, a data point can be created every time someone taps the screen. This not only allows for an in-depth review of a department's processes over time but offers users the ability to look at data in real time.
"Transparency breeds accountability and accountability breeds process improvement," Means said. "We don't have to wait for the quarterly meeting to review the last 100 patients we transported. We can improve right now with this patient while they're on the cot or en route to the hospital."
This improvement can be department-specific to help fire crews streamline their internal processes or can look at ways to help improve patient care at any point downstream. Ultimately, what a fire crew does to treat a patient on scene is only one piece of the picture.
"We always use the terms 'patient-centric care' or 'patient-centric communication' and we tend to put blinders on and only focus on the patient when they're in front of us," said Means. "Patient care doesn't start with a 911 call or in the emergency department, and it certainly doesn't end there. If I'm a first responder, the things that I do, the way I communicate and the information I give to the hospital that's receiving the patient directly impact the care they're going to get."
Visit Pulsara for more information.
Read next: Journey to success: How this department implemented a new tech tool

Request information from Pulsara
Thank You!