What's new in fire investigation tools
There is an array of devices and systems to help you determine where and how a fire started — here's a closer look at some of those
---
The investigation of fires to determine origin and cause, as well as evidence of arson, is a critical function for any fire department. In addition to putting criminals behind bars, accurate determination of origin and cause can provide fire department leaders with valuable information about fire trends in their community, such as by occupancy or building construction type.
Good fire investigation starts with personnel who are well-trained in fire investigation and evidence collection. Their efforts are enhanced with the proper tools and equipment to survey and document the fire scene; determine the point of origin; identify the avenues of fire spread; and collect and manage physical evidence in suspected arson cases.
The tools of the trade for a fire investigator fall into several categories including, but not limited to: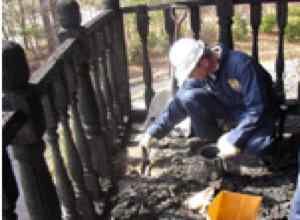 Excavation equipment.
Evidence collection and preservation equipment.
Detection equipment.
Documentation and evidence management equipment.
Evidence collection
The Arson Scene Tool Kit from Sirchie provides the basic tools essential for any fire investigator to conduct their fire investigation. The complete tool kit comes packaged in a heavy-duty metal box and includes tools for power or manual drilling, along with cutting and chiseling tools that allow for the extrication of evidence. Protective gloves and disposable clothing are also included.
The Sirchie Arson Evidence Solid Sampler Kit is designed specifically for the collection of materials at fire and arson scenes. The tools provided facilitate the removal of the most commonly required evidential samples, including plaster, soot excelsior, wood chips and soil. The supplied collection containers allow for contaminant-free delivery to the lab for analysis. The Arson Investigator's Manual is included.
The Arson Evidence Liquid Sampler Kit, also from Sirchie, will assist the investigator in collecting arson scene liquids with as little contamination as possible. Each non-leachable glass sample bottle is equipped with a hydrocarbon-resistant cap. Filtering equipment is provided to separate debris from liquids to minimize site contamination and facilitate subsequent laboratory analysis.
MSA's Sirius Multigas Detector integrates a proprietary PID sensor into a durable four-gas detector that's built for safety and reliability across multiple applications and hazards. Fast response times let users constantly monitor for both VOCs and combustible, toxic or oxygen-deficient atmospheres.
The professional IR thermometers are a heavy-duty infrared dual-laser thermometer with advanced temperature processing, high-resolution optics and built-in LED flashlight. Advanced system-on-chip engineering is the key ingredient for this series of long-range infrared thermometers.
Eyes and Nose
Dyn-Optics' RedHawk thermal scanner is the most recent addition to the line of thermal scanners. Designed specifically for detecting hotspots, this thermal scanner uses SmartSight technology to provide hot spot detection up to 1,000 times greater than those provided by thermal imaging cameras and IR thermometers. The RedHawk includes a Class II red aiming laser for pinpoint location of hot spots inside structures, walls, ceiling, etc.
The KWJ Pragmatics Fire Arson Detector Model 626 Trooper 2 is a dual-sensor accelerant detector. The Trooper 2 metal oxide semiconductor (MOX) sensors are paired and response balanced to eliminate nuisance water vapors and pyrolitic materials vapors, which are common interferences to many single-sensor instruments.
MOX gas transducers are one of the preferable technologies to build electronic noses because of their high sensitivity and low price. With accelerant sensitivity down to 1 ppm, dual-sensor Pragmatics says its arson instruments can find trace hydrocarbons in 85 percent of the samples tested.
The CSI Arson Investigator from Crime Scene Investigation is a highly sensitive gas detector that combines an array of 16 ultraviolet LEDs and 16 bright-white LEDs in a compact arson investigation tool. The array of 16 ultraviolet LEDs provides an ultraviolet light source that may cause certain accelerants to glow and fluoresce. An outer ring of 16 bright-white LEDs is useful in poorly lit areas for safer investigation.
The CSI Arson Investigator can detect approximately 125 toxic and combustible gases and vapors, including all heating gases. It has an adjustable sensitivity switch for which the higher sensitivity function is used to locate trace amounts of hydrocarbons and the lower sensitivity function aids in pinpointing the source in high concentrations.
The Electronic Nose hydrocarbon gas and accelerant detector sold by Fire Penny can detect fuel oil concentrations of less than 200 ppm or gas leaks of less than 1 cubic foot. The unit beeps and flashes when the sensor is exposed to a gas, hydrocarbon or accelerant.
A slow beep rate indicates a small amount of gas or accelerant, whereas a more rapid rate indicates a higher gas concentration. A mute switch is provided to silence the audio for discreet investigation. The unit is equipped with an electronic purge switch that permits rapid recovery of the sensor when it is exposed to large gas concentrations.
On the wildfire side, Leica Geosystem's ScanStation 10 has been pressed into service by Cal Fire to determine the cause and origin of wildland fires. In Cal Fire's case, the 3D laser scanner was used to digitally map and reconstruct the burned forest.
The unit contains a high-accuracy, long-range laser scanner, tilt sensor, battery, controller, data storage, auto-adjusting video camera and laser plummet in one portable instrument. The company's Smart X-Mirror technology automatically aligns the embedded, high-resolution video camera with the laser for fast targeting and fast, accurate texture mapping of scans.
Data management
Evidence.com from Taser is a secure digital evidence-management solution that enables law enforcement agencies to connect all of their digital data, such as video, images, audio, reports, and records, into one integrated system.
Evidence.com is a cloud-based application that can reduce a department's cost of software maintenance and upgrades and eliminates the risk of execution and implementation. Agency supervisors can access their records and data from anywhere and instantly share mission-critical information with collaborators such as district attorneys and nearby agencies.
EvidenceOnQ from FileOnQ, Inc. allows fire and arson investigators to manage, maintain, and track property and evidence from the crime scene to the courtroom. With EvidenceOnQ, investigators can streamline evidence management duties; reduce repetitive and error-prone manual tasks; and integrate text reports, video, photographs, and audio recordings into a single case file.
Evidence Tracker from Tracker Products provides tools designed to take the frustration out of bar code tracking. Those features include picture and document attachment, customizable data collection, chain-of-custody tracking, user administration management, mobile tracking, and digital form conversion.