Spotlight: ROS Platform is self-contained unit, ready to go at affordable price
Practical Fire Equipment provides easy to use tools made by firefighters for firefighters
---
Company Name: Practical Fire Equipment
Headquarters: Bay City, Michigan
Signature Product: R.O.S. Platform
Website: http://www.practicalfireequipment.com/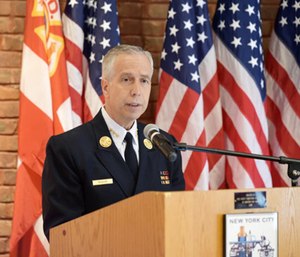 Practical Fire Equipment L.L.C. was developed by two career firefighters that saw a need for practical equipment. The need derived from departmental budget cuts.
Where did your company name originate from?
Practical Fire Equipment came from the need to have "practical" equipment. Our company originates from the experience that firefighters have gained over years of service. We strive to provide easy to use, well-built, American made tools.
What was the inspiration behind starting your company?
It came from harsh experiences with roof operations in unforgiving climates. The company is comprised of career firefighters in the state of Michigan. In Michigan, with the cold winters and old construction, this can make for dangerous roof conditions. The ROS Platform is the result of input from experienced firefighters.
Why do you believe your products are essential to the fire community?
The ROS Platform is an essential tool for fire departments, because roof operations can be dangerous. Some fire departments go as far to say they don't go on roofs anymore.  As we all know, going on roofs is still an essential part of firefighting. Be it a metal roof with a chimney fire, slippery wet or frozen shingles during vertical ventilation, the ROS platform provides solid, durable footing that attaches to the ladder. The ROS Platform spans at least one or two trusses, which allows the user to no longer rely on the sheeting of the roof.
What has been the biggest challenge your company has faced?
We have experienced many challenges with starting this company. From finding certified ISO manufacturers, complying with OSHA standards, and marketing and educating the fire service, we've had to overcome some large obstacles. Our biggest challenge so far is trying to break fire departments of old or bad habits while working off a roof ladder.
What makes your company unique?
When you call one of the numbers on our website, you actually talk to the guys who invented the ROS Platform.  Our sales people are current or retired members of the fire service and we only use the most reputable distributors in the business.
What do your customers like best about you and your products?
A lot of our customers like the fact that the ROS Platform stores directly to the ladder. Having to store the ROS in another compartment or carry it up separate to the roof is not an issue with the ROS Platform. Also, when you buy the ROS platform there is no need to purchase carrying harnesses or mounting brackets. The ROS is a self-contained unit, ready to go at a price that is very affordable. See our website for a list of ROS Platform customers.
What is the most rewarding part of serving the first responder community?
Being able to associate with fellow firefighters from all over the world and working with people that have a passion for the job is extremely rewarding. But the most important thing is keeping our firefighters safe.
Is there any fun fact or trivia that you'd like to share with our users about you or your company?
We are based and manufactured by ISO certified manufacturers in  Bay City, Mich.
What's next for your company? Any upcoming new projects or initiatives?
We are always looking to help a firefighter bring their idea to reality. We are also looking for more practical ways to make the job safer.  In today's world of doing more with less, we are always striving to do that in a safe and efficient manner.  Please feel free to look us up at www.practicalfireequipment.com