7 reasons why fire departments need rugged tablets
Does your department's mobile computing solution provide the flexibility you need in the field?
---
Sponsored by Zebra Technologies
By FireRescue1 BrandFocus Staff
Today's first responders are more reliant than ever on mobile technologies to increase their situational awareness – and their operational safety – on every call. Mobile devices and other technologies that extend communications, data and safety systems to the apparatus and command vehicle or ambulance support preparedness, as well as situational awareness and safety at the scene.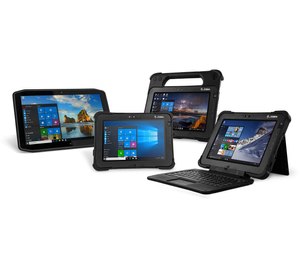 But not all mobile devices are compatible with public safety environments. Even some "rugged" computers lack the durability to survive the rough handling and harsh operating conditions of fire and rescue operations, and many devices – such as notebooks – simply can't be mobilized with responders when they're out of the vehicle and on foot in the field.
Rugged tablets offer a single device, all-purpose PC that can operate in all public safety environments, whether at the station or on the fireground. Here are seven reasons why fire departments should consider adopting rugged tablets, and what to look for when considering a tablet purchase:
1. Connectivity
It's not enough to deploy a mobile device that can connect to data systems. Crews need uninterrupted connectivity to dispatch and other first responders, no matter how remote the incident location.
They may also need access to critical reference materials, such as building schematics, a site's incident history, pre-determined emergency response mapping and standard operating protocol for high-risk operations like search and rescue or extrications.
Look for a rugged tablet, such as the L10 or R12 series from Zebra, that offers latest-generation mobile broadband technologies to provide uninterrupted connectivity.
2. Security
Data security is critical in any industry, and the fire service is no exception. Look for a rugged tablet with built-in 4G LTE, Wi-Fi and GNSS technologies that allow for seamless network switchovers, as well as multiple integrated security modules, such as VPN access, multi-factor authentication, fingerprint readers and other internal and external measures.
3. Compatibility
Rugged tablets are highly compatible with a range of critical fire applications. For example, rugged tablets enable agencies to interface with CAD and RMS using a single device, no matter where they are at the time.
Look for a rugged tablet that is compatible with your department's preferred operating system and equipped with the specific data entry tools required for your scheduling, pre-planning, GIS mapping, ePCR reporting and EMS billing functions. Most public safety agencies choose to run Windows for compatibility and security, but fully rugged Android tablets and handhelds are now available as well.
4. Mobility
It's important to recognize the distinction between mobility and portability. A notebook is portable, but it is not a mobile device that's easy to use in hand while working an incident. Notebooks need to rest on a flat surface and demand two hands on the keyboard. Tablets, however, can easily transform into a notebook/desktop with a wireless keyboard when needed.
"That's why 'portable' notebooks are almost always left in the car or truck, which doesn't give first responders the true real-time access to the data they need to do their jobs while on foot," said Bob Ashenbrenner, president of Durable Mobility Technologies and a consultant who works with Zebra Technologies. "It may also hinder their ability to make real-time decisions or document evidence in the moment."
5. Durability
Consumer devices are not built with the proper protections to stand up to the hard use inherent in emergency response. Look for a rugged tablet that has been tested to meet established standards for resistance to water, dust, extreme temperatures, vibration and shock. Also look for hardware that can be quickly and easily cleaned or wiped down without damaging the device.
It's important to note that only a few rugged tablets are truly built for public safety conditions and safe to use in hazardous fireground environments. Make sure you choose a tablet that's also ATEX or C1D2/C1Z2 compliant for hazardous locations, advises Ashenbrenner.
6. Versatility
A rugged tablet that supports your agency's software can be every PC you need it to be, whether in the office, vehicle or field. Many tablets come standard with secure docking options that replicate the devices' ports, whether in a vehicle or on a desk.
Look for a rugged tablet that is compatible with your back-office operating systems and accessories, software agnostic and easy to provision within your agency's operating environment to prevent costly data silos caused by different systems that don't share information.
7. Ease of use
Ease of use is a critical feature for first responders, who don't have time to navigate complicated workflows on scene. Look for a lightweight tablet (less than 3 pounds) with a touchscreen that works even with gloves on, as well as pen inputs for notetaking and reporting. Many rugged tablets are now available with 10- or 12-inch screens and brightness settings to support easy reading day or night, inside or outside.
How one FD uses tablets in the field
The Reading Fire Department in Pennsylvania needed a durable and dependable mobile computing platform to support real-time documentation and records review while crews were responding to a call, performing their duties at the scene and heading to the next call. The department first adopted rugged laptops but quickly found them to be heavy, awkward and less reliable or mobile than they had hoped.
"Unfortunately, the laptops failed fast, and they weren't easy to use outside the ambulance even when they did work," said Deputy Chief Sean Hart. "On many occasions, our crews had to revert to the old desktop-based reporting process. That reignited the same operational issues that we thought we had resolved."
Reading FD leaders started looking for a better option to support their ePCR software and selected a rugged tablet from Zebra Technologies that offered the durability they needed, as well as the necessary processing power to fulfill the department's immediate needs and future mobility goals.
"The Zebra rugged tablet gave us anytime access to sensitive ePCR data with the right combination of internal and external safeguards," Hart said. "We didn't have to compromise on workflow software capabilities or data security, and we didn't have to adjust our processes to accommodate hardware limitations as before."
Request information from Zebra Technologies
Thank You!