7 ways firefighters can use tablets in the field
How does your department use tablets? Sound off in the comment section below
---
HOW TO BUY YOUR NEXT TABLET: From how to choose tablets that are right for your firefighting crew, to the apps needed to effectively serve your citizens, we walk you through the steps you need to take when choosing your next device.
CONTENTS
A growing number of public safety agencies are replacing their mobile digital computers with tablet computers. 
We asked our Facebook fans, as well as our LinkedIn group, how they use their tablets while in the field.
Some said their biggest concern with using tablets is the potential negative effect the devices may have by interfering with the patient-caregiver relationship. And while others admitted to still working out tablet bugs, they said they appreciated the flexibility of the mobile devices and enhanced data collecting functions.
If you haven't already, be sure to join the conversation.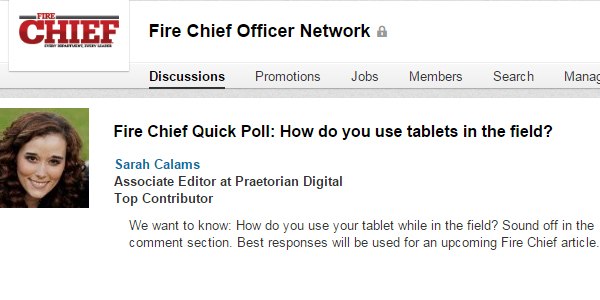 1."We utilize Getac F110 tablets for AVL, fire reporting and a fire command app. We are in the initial stages of implementation." — Paul Williams
2."We are re-introducing tablets into the field environment to capture patient-care records and as a Wi-Fi hot spot for data transmission of ECG data. We will be moving our vehicle and narcotic inventory system to these same tablets soon." — Darrel Donatto
3."I use mine for field work on investigations and for photos to reports. " — Bruce Dundas
4."Currently, we have replaced our MDTs with iPad air tablets in Lifeproof cases on all fire apparatus for preplans, hazmat research, a CAD information display, AVL and collection of narratives from the field. The iPads are on 24/7 to ensure they have the call information when being dispatched." — Scott Bisson
5."We trialed an inexpensive slate tablet to make the transition from tough book to tablet. We use a digital command and accountability platform on our incidents. We will be purchasing rugged tablets for all front line apparatus and command vehicles to replace tough books. We will be using tablets for building all pre-fire plans, allowing us to store photos in the plans." — John Morrison
6."We use ours for page track software, firehouse reports, preplans and apartment complex maps ... just to name a few." — Jason Grafford
7."Possibly good for locating hot spots out in the field if a program can be added to it to do that." — Bonnie Ball