How one software app sends audio tone-out dispatches to firefighters' mobile devices
Technology from eDispatches is changing how emergency responders receive dispatch notifications
---
The following is paid content sponsored by eDispatches
By FireRescue1 BrandFocus Staff
When a response is required, a department's members must be able to receive their notification quickly and reliably. Innovative services by eDispatches allows that to happen by sending dispatches to devices all personnel tend to carry.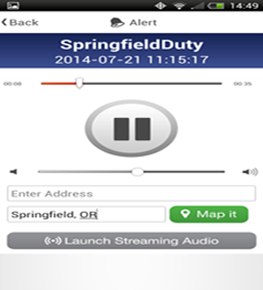 The notification system, using text, voice and app-based services, was developed by eDispatches 11 years ago. Headquartered in Kinnelon, N.J., eDispatches has grown to service thousands of departments in the U.S. and Canada.
Here's how it works.
A flexible notification system
The notification system operates using a radio receiver and a computer the company provides to the department at no expense. The detector is about the size of a video game console and monitors the department's dispatch frequency continually.
"The system is small enough to fit on a desk at a home office or in the station," said Eric Troy, the vice president of eDispatches.
The dispatch message comes from the area's main dispatch center and reports an event, like a working structure fire. The information is sent to eDispatches' servers using the provided equipment and local Internet connection without the dispatcher having to perform any additional steps.
The department members then are alerted on their mobile devices or landlines with the identical audio dispatch that was transmitted over the radio frequency. Members can choose to receive the audio dispatch by a text message, voice call or app notification.
The Android/iOS apps offered for free by eDispatches lets the phone operate similar to a radio pager with repeat, mapping/routing and live continuous streaming dispatch audio.
"Regardless of the type of device being used by the members, they have at least one option," Troy said.
The departmental contact information and settings are managed through a designated account administrator via the eDispatches web portal or app. Additionally, the admin or designee has access to the department mass messaging feature for non-emergency correspondence and announcements.
"The equipment provided by eDispatches will perform a check-in with the company servers routinely and notify the department if the unit comes offline," Troy said.
A valuable tool for fire departments
This makes eDispatches an essential tool for today's firefighters who seek technology solutions at the firehouse. It functions on any phone, so there is little training needed to get users up to speed, regardless of device.
"Firefighters may forget their issued alerting device, however, it is rare for a member to forget their phone," Troy quipped.
Troy said the best part of the system is that dispatch does not even need to be aware the eDispatches system has been deployed as it is totally automated. All equipment is provided; the department just needs power and Internet access.
"Departments already have the technology in play if they have a two-tone paging system or some other attention getting alert sound," he added. "Together with their department issued alerting device, it allows staff to be sure they will not miss their calls."
This system has no limitations on the size of the account or responders who can be notified simultaneously.
Service with a ROI
eDispatches saves a department money, Troy said.
The first cost savings is providing all the equipment necessary to run the service, including the aforementioned equipment guaranteed as long as you are a client.
"This saves an agency from having to purchase hardware to run an emergency notification system. Let's face it, hardware eventually fails," Troy said.
The service also saves time. Department administrators can choose which teams and individuals need to be notified to better manage resources and dispatch communications, Troy said.
"By using this service, you remove range limitations as now dispatches can be received anywhere in the world where there is a cellular connection," Troy said.
The company's staff understands customers' needs, as most have spent time or currently work in the public safety field.
"Many people on our staff work as volunteer and career first responders," Troy said. "I work in the career world as a chief officer and our company president is a volunteer assistant chief, so we bring that experience to our customers."
The pricing is scalable based on the agency size, he added. There is no contract and departments receive a 30-day free trial prior to any commitment.
Getting dispatch calls out to career and volunteer firefighters is critical. eDispatches gives chiefs and their members reliable and cost-effective option to get those calls to firefighters.
For more information, visit eDispatches.

Request product info from top Fire Mobile Computers companies
Thank You!