PRESS RELEASE
Datalux Computing Solutions are Improving Public Safety on Campus' in 2016 and Beyond
---
Keeping college and university campuses safe and secure is a concern that grows each and every day. The 2007 tragedy at Virginia Tech, where 32 people lost their lives, was a wake-up call for academic institutions, forcing them to focus on how they deal with campus safety and security issues. That event and several subsequent ones lead a large percentage of colleges and universities to launch task forces on campus safety and security. A survey by the Midwest Higher Education Compact revealed that 87 percent of 331 colleges and universities had conducted a campus safety and security audit and almost 9 out of 10 of those respondents reported that the audit led to changes in campus policies, including the adoption of new technologies.
Campus police forces are required to be ready to deal with a broad spectrum of possible threats. Preparing for these types of incidents or other crisis situations requires public safety officers to be well trained and equipped with the right gear. Data and reliable communications play a critical role in ensuring successful outcomes. To that end, many institutions are investing in fleet upgrades that provide their officers with the latest computing technology.
Datalux recently worked with several large universities in Virginia and California to outfit their campus police vehicles with the Tracer, a fixed mount computer designed specifically for police, fire and rescue vehicles. The Datalux computing solutions enable campus security officers to: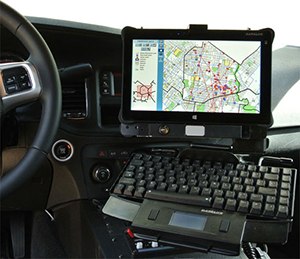 • Review and manage video evidence from dash mounted cameras and other surveillance devices
• Pull up critical information such as photos of suspects or maps and floor plans.
• Rapidly communicate intelligence during quickly evolving situations.
• ecome more efficient with paperless documentation of evidence or depositions in the field
In addition to traditional vehicle mounted terminals, rugged tablets are growing in popularity among campus security departments. The portability of rugged tablets enable officers to review information and build relationships with students and other community members. Increased engagement provides the intelligence that help keep campus communities safe. To meet this growing need, Datalux now offers the TM110 rugged tablet, featuring a hi-bright 11.6" screen, which offers good viewability while mounted in a vehicle, yet is small enough to retain features of easy handling and portability. The Datalux tablet is built for rugged environments and can handle road bumps, drops on the ground, spills, dust, as well as shocks and vibration.
Keeping campuses safe and secure is a vitally important endeavor and Datalux is proud to have worked with colleges and universities to meet this challenge. Our experience with agencies around the nation means the experts at Datalux understand the unique issues that law enforcement officials face, whether it's with a sheriff's office or a campus police force. In fact, our approach provides complete end-to-end solutions, including mounts, tablet vehicle docks, keyboards, power solutions and more. For more information on Datalux's public safety products or to schedule a demo, contact us today.
About DATALUX
Founded in 1990, DATALUX designs, manufactures, and markets specialized computer products for demanding environments with limited space, including public safety and healthcare. The company's headquarters is in Winchester, Virginia. For more information about the DATALUX line of public safety solutions, visit www.datalux.com or call 1-800-DATALUX.

Request more info from Datalux
Thank You!