PRESS RELEASE
Zebra Technologies' Latest Android Rugged Tablets, ET6x Series Extend Versatility, Efficiency
---
Innovative next generation tablet leverages 5G technology and AI-powered processor to enhance business efficiency across warehouse, manufacturing, field service and public safety
LINCOLNSHIRE, Ill. - Zebra Technologies Corporation, a leading digital solution provider enabling businesses to intelligently connect data, assets, and people, today announced the launch of the ET6x series of rugged Android tablets. Designed to help front-line workers in warehouses, manufacturing plants, ports, yards, field service and emergency medical environments be more productive and efficient, the ET6x series debuts the industry's only heated touch screen and vehicle dock for forklifts and other material handling vehicles.
 
The ET60 and ET65 are Zebra's first 2-in-1 Android tablets with a friction-hinge keyboard that transforms the tablets into a laptop to make heavy data entry easy in the office and in the field. The products feature consumer styling that can handle harsh indoor and outdoor environments from sub-zero cold to extreme heat.
The tablets are dustproof, corrosion proof and tested for vibration, thermal shock, and solar radiation. Two of the most vulnerable tablet elements – the display and optional scanner exit window – are protected with shatter-and scratch-resistant Corning ® Gorilla ® Glass.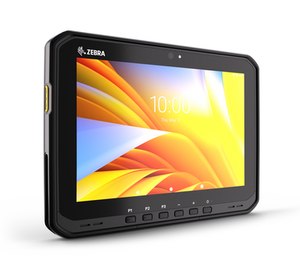 "As the global leader in enterprise-grade mobile computing solutions, we are excited to introduce the ET6x series of rugged Android tablets," said Julie Johnson, Senior Vice President, Enterprise Mobile Computing, Zebra Technologies. "Zebra's latest generation of tablets combine everywhere connectivity, security, quality design, and powerful processing capabilities with versatile accessories to help our customers and partners meet their business needs—even better than before."
The ET6x series is built to run enterprise applications in the most demanding environments. This includes warehouses where – according to Zebra's Global Warehouse Vision Study – the implementation of rugged tablets is expected to increase by 92% over the next three years. The ET6x series runs on the Qualcomm® QCS6490 processor with artificial intelligence (AI) and machine learning, more memory, industry-leading advanced range barcode scanning and one of the highest capacity field replaceable batteries available today.
"Utilizing AI and machine learning in field service environments can have a lasting impact on the efficiency of warehouses and manufacturing plants across the globe," said Juho Sarvikas, Vice President & President, North America, Qualcomm Technologies, Inc. "This collaboration between Zebra and Qualcomm Technologies has resulted in an innovative solution that is among the most powerful in its class."
The 10-inch ET60/ET65 offers the fastest wireless connectivity available, supporting Wi-Fi 6E, Citizen's Broadband Radio Service (CBRS) and advancing 5G technology for industrial environments that are replacing Wi-Fi for private WWAN networks. Enhanced with Zebra's Mobility DNA software suite, the tablets are easy to implement, configure, manage, and tailor for use across a wide range of demanding applications and industries. The ET6x series leverages advanced security capabilities to safeguard business-critical systems and data, and are backed by best-in-class technical support from Zebra Services and the ecosystem of integrators and ISVs within the PartnerConnect program.
KEY TAKEAWAYS
Zebra Technologies has introduced the ET6x series of Android rugged tablets, featuring the ET60 and ET65 that drive productivity and efficiency in indoor and outdoor environments.
As Zebra's first 2-in-1 Android tablet, the ET6x series is rugged, versatile and dependable, offering a friction-hinge keyboard, and the ability to withstand temperature extremes.
The ET6x series offers the fastest connectivity available in the industry, supporting Wi-Fi 6E, 5G, and CBRS.
ABOUT ZEBRA TECHNOLOGIES
Zebra (NASDAQ: ZBRA) helps organizations monitor, anticipate, and accelerate workflows by empowering their frontline and ensuring that everyone and everything is visible, connected and fully optimized. Our award-winning portfolio spans software to innovations in robotics, machine vision, automation and digital decisioning, all backed by a +50-year legacy in scanning, track-and-trace and mobile computing solutions. With an ecosystem of 10,000 partners across more than 100 countries, Zebra's customers include over 80% of the Fortune 500. Newsweek recently recognized Zebra as one of America's Most Loved Workplaces and Greatest Workplaces for Diversity, and we are on Fast Company's list of the Best Workplaces for Innovators. Learn more at www.zebra.com or sign up for news alerts. Follow Zebra's Your Edge blog, LinkedIn, Twitter and Facebook, and check out our Story Hub: Zebra Perspectives.
ZEBRA and the stylized Zebra head are trademarks of Zebra Technologies Corp., registered in many jurisdictions worldwide. All other trademarks are the property of their respective owners. ©2023 Zebra Technologies Corp. and/or its affiliates.
Qualcomm is a trademark or registered trademark of Qualcomm Incorporated. Qualcomm branded products are products of Qualcomm Technologies, Inc. and/or its subsidiaries. Qualcomm patented technologies are licensed by Qualcomm Incorporated.
Request more info from Zebra Technologies
Thank You!