How Bonita Springs used RFID to end inventory management woes
RFID allows agencies to eliminate inventory waste, gain insight into supply shortages and track all assets, even on vehicles
---
Sponsored by Zebra Technologies
By Andrea Fox for FireRescue1 Brand Focus
Bonita Springs Fire Control and Rescue District of Florida worked with Zebra Technologies and Silent Partner Technologies to implement a radio frequency identification (RFID) solution for inventory and asset management at all seven of its firehouses. Zebra RFD 8500 Handheld RFID 1D/2D Readers, RFID tags, labels and antennae installed in medical supply rooms have completely replaced the district's manual audits, achieving a number of key benefits.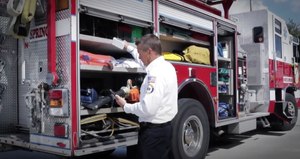 Beyond reducing supply waste, the department gained the ability to pull data for reimbursements in minutes and achieved a 100% return on investment in the first year.
For Bonita Springs Assistant Fire Chief Richard Scott, the reassurance that RFID provides enables the agency to focus fully on emergencies, like outbreaks of COVID-19 and hurricanes. Being able to trust that inventory won't simultaneously descend into chaos is one less worry. There's also no more calling the battalion chief at 2 a.m. and sending him on an uncertain mission to try to get supplies at another Bonita Springs fire station.
"It was a constant inefficiency that never happens anymore. I mean, never," said Scott.
COMPLETE VISIBILITY REDUCES WASTE 
For a fire service with a main supply room that averages 400 items, doing the inventory used to be an all-day project, said Scott. And if there were emergency calls, that could reduce the accuracy of the monthly count.
"Now, it's always done, and we can check anytime we want," he said.
With the software and hardware solutions from Silent Partner and Zebra, agencies can see updated inventory information from any computer or device. Scott can also order ahead of time based on the data rather than estimating what they might need because someone happened to move supplies from the main supply room.
"We used to over-order all of our medical supplies because we really didn't know what we needed," he said. "We knew there was a ton of waste, and there always is. But you waste because you don't know, right? With RFID technology, we all know exactly what we need, and there isn't so much waste."
The district can now run transaction, delivery, and usage reports for each of its stations in about 10 minutes.
"We know exactly what leaves a station and what was used on a call, with the exact quantity and dollar amount attached to it. It's very easy to put together these lists," Scott said.
RFID DATA ENHANCES AGENCY RESPONSIBILITY
At the onset of COVID-19, the RFID system gave the district better control over how many of everything they really had in supply.
"The first thing we did was downsize our tagging," Scott said, explaining how the agency packaged scarce N95 masks two together with an RFID sticker. "We really knew how many our agencies were using, because when firefighters grabbed a bag and left the supply room with it, the bag was tracked," he said. "We could look at all seven of our stations, plus our master supply room, and know exactly, up-to-the-minute, what's in every one of our stations."
During initial COVID-19 response, PPE was funneled through the Lee County Department of Health and distributed to local agencies. The RFID system helped the agency better assess its needs, and Silent Partner's software allows the agency to enter information like vendor and pricing information and images.
"When the CARES Act funding became available and I worked on supply reimbursement, I knew we used 100 N95 masks, for example. I knew exactly what all PPE items cost during response. This solution has made it that much easier," Scott said. "As a responsible agency, we wanted to give the most accurate numbers we could, because if we're hogging supplies here, then other agencies are doing without."
Scott also did not want to ask for money the agency "didn't deserve."
"It's just about honesty and accuracy," he said.
RFID TECHNOLOGY HELPS AGENCIES BLOW AUDITORS' MINDS
The district used to throw away thousands of dollars of medical supplies, Scott says. Most agencies not only overbuy, but it's common to have supplies that expire. The risks and substantial penalties for having expired medications and equipment on apparatus are high.
"With our system, I can now track those expirations, and I don't ever worry about it," Scott said.
Hard-to-track medical supplies and the medications agencies carry move constantly, but Zebra's RFID readers in all of the Bonita Springs fire service supply rooms read tags and monitor room temperature, which is required for some medications.
Auditors that visit twice per year look at budgetary items and will ask about waste when they see unusually high costs on medical supplies.
"This system gives me some peace of mind knowing what our agency has in stock and how long it's going to last, because we know our exact usage," said Scott. "And when we show auditors what we do, and how lean we're able to keep our inventories – and I have to brag a little – they're amazed at how little waste we have, at how accurate all our numbers are."
TAGGING CHANGES EVERYTHING FOR THE BETTER 
All supplies and assets are tagged and labeled individually, and the RFID system provides a full, daily inventory of all district locations.
Tagging each item may sound like a time-intensive effort, but the district's part-time logistics coordinator spends just two hours per week tagging.
"We run about 8,000 calls per year here across seven stations, and two hours is not a tremendous time investment on tagging, packaging and entering information into the software," said Scott.
He was quick to add that all agencies must enter data into some form of an inventory system, even if it's on paper.
"You're still documenting somehow, even if you're writing on a piece of paper, 'I got 50 Band-Aids today.' Yes, the agency must put a sticker on the Band-Aids and add data into the software, but that's the last time the agency has to physically touch those Band-Aids for an inventory count," he said.
Using Zebra's RFID labels and tags, the agency tags all assets from non-consumables, saws and air packs to cardiac monitors and even the rescue boat.
"In our industry, we're not good with inventory management, it's not our business. it's just not our training, it's not our area of expertise. But we can inventory the fire truck in a couple of minutes by just walking around with an RFID gun and shooting it," said Scott. "We even have tags put in our bunker gear now, and RFID tags are sewn into the coat and the pants of all our protective gear."
The district is beta-testing RFID in one of its med vaults to monitor controlled substances.
"We now see the contents of that med vault live 24/7/365 from smartphone or computer," he said.
GOVERNMENT-FRIENDLY, REDUCES EMS BUDGETS 
Cities, counties, boards and commissioners are mainly concerned about spending, says Scott.
"That's the easiest pitch," he said. "When local agencies call and ask, I can say with confidence, 'We reduced our EMS budget specifically with RFID by 50% the first year."
After Hurricane Irma in 2017, the district's finance director asked about every supply used in response that spread over four weeks.
"I don't think we ever did it before. For hurricanes, we never got down that far. We would go with overtime that we incurred for employee costs and payroll. We would factor in major damage to our apparatus or buildings. Without the Zebra-Silent Partner RFID solution, I don't know how we would've done it, and what it would've taken," said Scott. "We could never get detailed information on supplies and assets before RFID because we didn't have the ability to."
Visit Zebra Technologies and read Zebra's RFID for Fire Services and EMS Use Case Application Brief for more information.
Read Next: Which mobile devices are used most on the fireground and why? (infographic)
Request information from Zebra Technologies
Thank You!