Is your team tech-ready for major events? (eBook)
Advancing technology is changing how nearly everyone does their jobs – including fire and rescue personnel
---
Sponsored by Zebra Technologies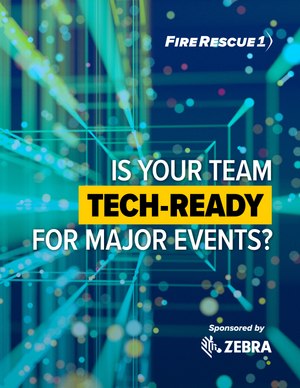 Advancing technology is changing how nearly everyone does their jobs – even when those jobs are extinguishing fires and rescuing those in peril. One of the biggest ways it's improving things is by making available exciting new capabilities and enormous new amounts of critical real-time information responders previously couldn't access.
Is your department prepared to take full advantage of these new possibilities? This eBook looks at three different areas where new developments can change the ways firefighters do their jobs to increase the safety, efficiency, and appropriateness of their responses.
The first component looks at the growing problem of extreme weather events. Incident management software is the key to responding to their widespread impacts, but other advances that can facilitate your efforts include new vehicles that can navigate flood waters, battery-powered and portable GPS devices, photovoltaic-powered systems, drones, and the profound capabilities of the FirstNet nationwide broadband network.
A second feature examines the use of real-time maps to stage and deploy personnel. Often the first thing an incident commander will need in a major event is a geographic overview of its victims, hazards, and resources. Successful mapping and geospatial awareness involve the interoperable sharing of data among a range of responders and stakeholders.
The final piece overviews some top apps all firefighters should have on their mobile devices.
Read on to find out how improvements in technology can keep your crews and your citizens safer in major events – and don't hesitate to make full use of them.
Fill out the form below to get your copy.
Download "Is your team tech-ready for major events?"