PRESS RELEASE
Datalux introduces 11.6-inch rugged tablet for public safety
---
WINCHESTER, Va. -- Datalux Corporation introduces the Datalux TM110, a rugged tablet for public safety with a large, sunlight readable 11.6-inch display.

Powered by the latest Intel Core™ i5 or Core™ i7 processor, the Datalux TM110 provides superior functionality in vehicle deployments or hand-held use. Compliant with MIL-STD 810G, the tablet's durable construction with reinforced chassis, handles the tough environments of public safety as it moves effortlessly from secure vehicle mount to portable use.
The Datalux TM110 was developed for police officers and other first responders in need of fast, reliable data and communications while on patrol or at the scene of an incident. With interior cruiser space at a premium and an officer's need to efficiently move information from vehicle to field and office, this rugged 11.6-inch tablet at only ¾-inches thick, is solid and portable enough to handle the challenges of police, fire and EMS activity.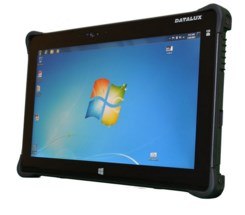 Tough enough to withstand drops of up to three feet and weighing under 2.8 pounds, the Datalux TM110 is the lightest fully rugged 11.6-inch tablet on the market. The crisp multi-touch touchscreen works with hand or included stylus and offers a 25 percent increase in viewable area over popular 10.1-inch tablets. The brilliant HD display is easily viewed in direct sunlight or bright vehicle interiors.
Built-in next generation 802.11ac WiFi from Intel allows TM110 to easily and securely connect to access points or in-vehicle network devices. Users have the option of connecting through USB to vehicle modems and other peripherals, and for Verizon customers - there's an option for 4G LTE to connect to cellular networks. The Datalux TM110 can be configured with GPS for mapping and automated vehicle location.
Multiple options supporting security and data collection functions include readers for barcode, RFID, smartcard and mag stripe cards. These optional add-ons empower public safety officials to facilitate rapid response times, streamline processes such as incident reports, and lower costs. Emergency response crews gain better and more vital information on-site and in real time. Officers can work more quickly when completing an accident report and spend less time at dangerous roadside traffic stops.
The TM110 is backed by Datalux's three-year freedom warranty, which covers the product against many types of accidental damage.  It is serviced in the USA and vehicle installation assistance is available.
For agencies currently using the Datalux Tracer all-in-one and Datalux TRU-Mount, an adapter enables the TM110 tablet and vehicle dock to become a drop-in replacement for the Tracer. The new TM110 rugged tablet is available with Datalux's innovative backlit keyboard that can be singlehandedly clipped and unclipped from the vehicle mount.
About Datalux:
Founded in 1990, Datalux designs, manufactures, and markets specialized computer products for demanding environments with limited space, including public safety and healthcare. The company is headquarted in Winchester, Virginia. For more information about the Datalux line of public safety solutions, visit www.datalux.com

Request more info from Datalux
Thank You!