PRESS RELEASE
Full lineup of Xplore rugged tablet solutions now available for purchase through GSA IT Schedule 70
---
Solvix Solutions contract includes 2 in 1, laptop replacement options for mobile workers.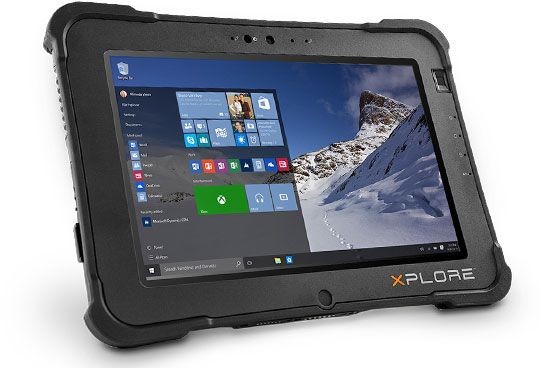 AUSTIN, Texas — Xplore Technologies Corp. (NASDAQ: XPLR) today announced that its full portfolio of rugged, fully rugged and ultra-rugged mobile computing solutions is now available for purchase by government agencies through Solvix Solution's General Services Administration (GSA) IT Schedule 70 contract #GS-35F-088HA / 47QTCA18D002C.
Federal, state and local agencies looking for a highly secure and fully-featured computing experience will now benefit from the fast, easy procurement of Xplore's 10" and 12" tablet-based "mobile office" systems. They will also benefit from the expert guidance of Solvix Solutions, a Woman-Owned Small Business (WOSB) that has successfully supplied the U.S. Government with top quality workforce technologies for more than 3 years.
To learn more about how Xplore's mobility solutions are built to support the time- and data-sensitive missions of government organizations, visit www.xploretech.com/government. To see how Solvix Solutions can save your agency time and money in its procurement of Xplore rugged tablet-based mobile and desktop computing solutions, please visit www.solvixsolutions.com.
About Solvix Solutions 
Solvix Solutions is a Woman-Owed Small Business (WOSB) based outside of Philadelphia, in Mount Laurel, NJ. As a technology sales and service provider, Solvix is focused on covering all of its Government and corporate clients' desktop, mobility, hardware, software and infrastructure project needs. It is the 16th Largest Woman-Owned Business in the Philadelphia region as of 2017 according to the Philadelphia Business Journal, as well as the 25th Largest Woman-Owned Business in New Jersey. It was also honored as Small Business of the Year 2017 by South Jersey Business Magazine. Visit www.solvixsolutions.com for more information. 
About Xplore Technologies
Xplore is The Rugged Tablet Authority™, exclusively manufacturing powerful, long-lasting, and customer-defined rugged tablet PCs since 1996. Today, Xplore offers the broadest portfolio of genuinely rugged tablets – and the most complete lineup of rugged tablet accessories – on Earth. Its mobility solutions are purpose-built for the energy, utilities, telecommunications, military and defense, manufacturing, distribution, public safety, healthcare, government, and field service sectors. The company's award-winning military-grade computers are also among the most powerful and longest lasting in their class, built to withstand nearly any hazardous condition or environmental extreme for years without fail. Visit www.xploretech.com for more information on how Xplore and its global channel partners engineer complete mobility solutions to meet specialized workflow demands. Follow us on Twitter, Facebook, LinkedIn, and YouTube.
Request more info from Zebra Technologies
Thank You!