PRESS RELEASE
Getac Recognized as a Leader in IDC MarketScape Assessments of Worldwide Rugged Mobile Devices, Tablets and PCs
---
TAIPEI - Getac Technology Corporation, a leading producer of rugged technology, today announced that two new IDC MarketScape reports named the company a worldwide Leader in Rugged Mobile Devices and Rugged Tablet and PC.
The reports, "IDC MarketScape: Worldwide Rugged Mobile Devices 2023 Vendor Assessment and IDC MarketScape: Worldwide Tablet and PC 2023 Vendor Assessment," noted, "Despite challenges, the future of rugged mobility is secure. Rugged devices perform tasks that consumer-grade devices cannot, and they excel in highly specialized enterprise workflows. As more businesses seek to enable larger segments of their workforce, frontline workers present a clear opportunity for growth."
"We believe these results are further proof of Getac's leadership in setting the standard in rugged computing devices, software, accessories and professional services tailored to each customer," said James Hwang, President of Getac Technology Corporation. "We collaborate proactively with our customers to resolve operational challenges at every level to ensure performance in extreme working environments. This results in a lower total cost of ownership because Getac devices are designed from the ground up to handle challenging conditions."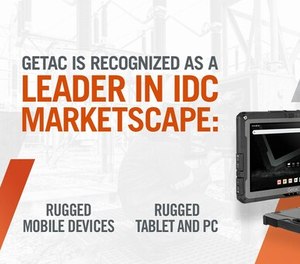 The IDC MarketScape noted that "Enterprise organizations that require either Android- or Windows-based fully rugged solutions designed for a multitude of frontline use cases should consider Getac high on their list of rugged device providers."
Additional specific strengths of Getac featured in the reports include:
Extensive solutions portfolio: "Getac offers an extensive portfolio of rugged hardware that is differentiated across multiple OSs, form factors, and screen sizes. In addition, Getac has differentiated offerings in rugged in-car video and body-worn cameras not offered by its direct competitors. These adjacent offerings create potential for additional expansion into public safety and law enforcement."
Vertically integrated supply chain: "Getac designs and manufactures its own products and works with Getac Holdings' subsidiaries to make key critical components, including motherboards, batteries, mobile computing chassis, and copolymer mechanical components for a vertically integrated supply chain."
Android Enterprise Recommended: Getac's participation in the Android Enterprise Recommended program, ensures "its Android devices will receive timely security updates and OS support during deployment life cycles."
For more information, please download the IDC MarketScape excerpt.
About IDC MarketScape
IDC MarketScape vendor assessment model is designed to provide an overview of the competitive fitness of ICT (information and communications technology) suppliers in a given market. The research methodology utilizes a rigorous scoring methodology based on both qualitative and quantitative criteria that results in a single graphical illustration of each vendor's position within a given market. IDC MarketScape provides a clear framework in which the product and service offerings, capabilities and strategies, and current and future market success factors of IT and telecommunications vendors can be meaningfully compared. The framework also provides technology buyers with a 360-degree assessment of the strengths and weaknesses of current and prospective vendors.
About Getac
Getac Technology Corporation is a global leader in rugged mobile technology and intelligent video solutions, including laptops, tablets, software, body-worn cameras, in-car video systems, digital evidence management and enterprise video analytics solutions. Getac's solutions and services are designed to enable extraordinary experiences for frontline workers in challenging environments. Today, Getac serves customers in over 100 countries spanning defense, public safety, ambulance, fire & rescue, utilities, automotive, natural resources, manufacturing, transport, and logistics. For more information, visit: http://www.getac.com. Participate in the Getac Industry blog or follow the company on LinkedIn and YouTube.
Getac and Getac logo are trademarks of Getac Holdings Corporation or its affiliates. Other brands or trademarks are the property of their respective owners. 

Request more info from Getac Rugged Notebooks
Thank You!