PRESS RELEASE
New Rugged Laptops and Tablets Being Introduced in 2016
---
Telrepco is pleased to announce that this year we will be adding three new machines to our line of rugged laptops and tablets. Panasonic has recently introduced two new products; the FZ-Q1 is a semi-rugged tablet offering a 12.5" screen size, and the CF-20, the world's first fully rugged detachable laptop. Additionally, Getac has recently announced the RX10, a fully rugged tablet with a convenient carrying handle, ideal for the healthcare industry.
Panasonic Toughpad FZ-Q1 – The First Business Tablet That Doesn't Mind Getting Dirty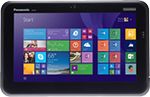 The Toughpad FZ-Q1 is a lightweight semi-rugged tablet offered in two models: performance and standard, giving customers the option to choose between a cost efficient Intel Celeron model and a blazing fast Intel Core i5 processor. The Q1 is a semi-rugged tablet with shock-absorbing technology and dust resistance, perfect for highly mobile jobs. It offers more protection than a consumer grade tablet, without the extra bulk and weight of a fully rugged model. The Q1 features a 12.5" full HD widescreen 10-point multi touch display while weighing only 2.3 lbs. The Q1 is also the only tablet in its class with a three-year warranty and available built in 4G LTE multi carrier mobile broadband with satellite GPS.
The Performance model boasts an Intel Core i5-4302Y vPro processor, 8GB of RAM, and a 128GB SSD standard, with the option to upgrade to a 256GB SSD.
The Standard model offers an Intel Celeron N2807 Processor, 4GB RAM, and a 64GB eMMC standard, with the option to upgrade to a 128GB SSD.
Both models will have integrated options available for 4G LTE with satellite GPS, insertable SmartCard reader, Contactless SmartCard/RFID HF reader.
To read more, visit http://www.telrepco.com/panasonic-toughpad-q1/
Panasonic Toughbook CF-20 – The World's First Fully Rugged Detachable Laptop
use if there is a picture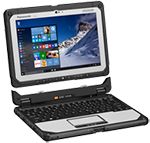 The Toughbook CF-20 is a fully rugged laptop which can easily transform into a 10.1" sunlight viewable, multi touch tablet with an optional Digitizer. With a MIL-STD-810G and IP65 design with magnesium alloy chassis, this Toughbook is built to handle the toughest situations your workday can throw at you. The versatility provided by being able to detach the tablet provides users an incredibly convenient form factor for any environment, be it out in the field or back in the office.
The CF-20 is equipped with an Intel Core m5-6Y57 vPro processor, 8GB RAM, 128GB SSD with heater, and an 82-key emissive backlit keyboard, and offers many integrated options such as dedicated GPS, 4G LTE with satellite GPS, barcode reader, serial port, second USB 2.0 port, magstripe reader, insertable SmartCard reader, contactless SmartCard/NFC reader, fingerprint reader, 8MP rear camera, and a bridge battery allowing a hot-swap of the removable battery.
To read more, visithttp://www.telrepco.com/panasonic-toughbook-20/
Getac RX10 – Compact and Lightweight Fully Rugged 10.1" Widescreen Tablet
use if there is a picture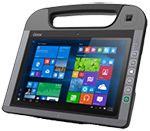 The newly introduced RX10 is a thin and light fully rugged 10.1" tablet with a convenient carrying handle. It is designed to fit in one hand to make operation in any environment easy and convenient. Available in two models, the standard RX10 and the RX10H which is white with a light blue grip designed specifically for healthcare. The RX10 features an Intel Core M processor, Intel HD Graphics 5300, LumiBond 2.0 glove-sensitive touch screen with optional digitizer, a versatile kick-stand, and a hot-swappable battery, with integrated options for 4G LTE, GPS, barcode scanner, NFC/RFID reader, and a fingerprint reader.
The RX10 also comes standard with Getac's bumper-to-bumper warranty, providing the peace-of-mind protection that whatever happens, Getac has you covered.
For more information, click here to download the spec sheet, or call us today at 1-800-537-0509.

Request more info from Telrepco
Thank You!