PRESS RELEASE
Telrepco Awarded GSA Contract For Refurbished Toughbooks
---
In addition to our ability to offer new products on GSA and state WSCA contracts, Telrepco has recently been awarded a GSA contract for our refurbished Panasonic Toughbooks and Toughpads, parts and accessories. This means  qualified federal, state and local government buyers can now purchase our Grade A refurbished Panasonic Toughbooks, parts and accessories off  our GSA schedule 70 132-9(contract # GS-35F-455CA) and enjoy additional savings as well as a simpler purchasing process. To view products on our contract on the GSA Advantage! Website click here, or click here to view our GSA Contract Terms and Price List. For more information on Telrepco's government contracts, visit www.telrepco.com/government-contracts/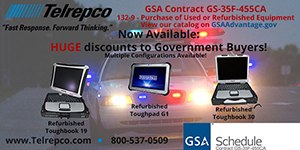 GSA (General Services Administration) offers acquisition solutions for qualified government buyers and provides a quicker and more efficient way for government agencies to acquire cost-effective, high-quality products and services from commercial vendors. To learn more about GSA, visit GSA.gov.
Call us today at 800-537-0509 for more information.
About Telrepco
Telrepco specializes in ruggedized mobile computer solutions providing Panasonic mobile laptops, Motorola handheld PC scanners, Ruggedized mobile printing solutions, vehicle mounting solutions and more. We are an authorized repair center for Panasonic Toughbook laptop computers and offer warranty, extended warranty options and offer a trade in program.

Request more info from Telrepco
Thank You!