PRESS RELEASE
Two fire departments find Xplore rugged tablets best suited to improve responder safety, efficiency, mobility
---
Xplore Platinum Partners Allegiance Technology, Ingram Technologies play integral role in customization, deployment of each public safety customer's mobility solution.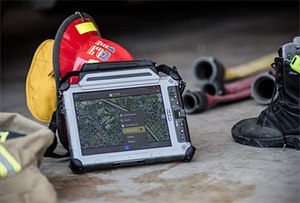 AUSTIN, Texas — Xplore Technologies Corp. (NASDAQ: XPLR) today announced that the Reading Fire Department in Pennsylvania and Community Volunteer Fire Department in Harris County, Texas, have both chosen Xplore rugged tablet PCs to modernize their in-vehicle data systems and more effectively mobilize data-centric workflows across their fire and rescue operations.
At the recommendation of Xplore Platinum Partner Allegiance Technologies, the Reading Fire Department has equipped its entire team with Xplore F5m rugged tablet PCs, enabling first responders – for the first time in years – to complete electronic patient care records (ePCR) and other critical call-related actions in real time while in the field, en-route to incidents, and back at the station.
In fact, the department has chosen to replace all of its Panasonic Toughbooks – initially intended to be the in-vehicle platform for ePCR – as well as its station-based desktops with the Xplore F5m mobile PCs. This has created a single form factor computing system that crews can securely access across Reading Fire Department's entire jurisdiction without physical limitations. And, unlike the bulky laptops that were often left at the station or in the vehicle due to their high failure rates, the new Xplore F5m tablet PCs have already proven their rugged suitability and uncompromising computing capabilities amidst the heavy data demands and harsh operating environments stemming from the agency's high daily call volume. 
"The F5m rugged tablet gives us anytime access to sensitive ePCR data with the right combination of internal and external safeguards," explained Sean Hart, Deputy Chief, Reading Fire Department. "We don't have to compromise on workflow software capabilities or data security, and we don't have to adjust our processes to accommodate hardware limitations as before. The F5m easily adapted to our operational environment."
Community Volunteer Fire Department (CVFD) in Texas has also chosen to standardize part of its mobile computing technology solution on Xplore rugged tablets. CVFD recently selected the R12 rugged tablet and Secure Mobile Dock in-vehicle system as its new Mobile Data Terminal (MDT) solution. The combination department serving Southwest Harris and Northeast Fort Bend counties, is currently transitioning from multi-component, end-of-life Motorola workstations to the single R12 tablet form factor in the cabs of firetrucks and ambulances. Though the integration, led by Xplore Platinum Partner Ingram Technologies, is just more than halfway complete, the tablets have already led to significant efficiency gains during dispatch and emergency response efforts. The highly-responsive R12 tablet processes data much faster than the other MDT computing options the department considered, and integrates with the Ethernet connectivity needed to securely manage the medical team's ambulance-based narcotics vault. In addition, the easy "grab and go" design of Xplore's in-vehicle mounting system allows IT to easily remove the rugged tablet with one hand if needed for upgrades or repairs.
As Andrew Hawthorn, Deputy Chief, Administrative Affairs, CVFD boasted: "The serviceability of Xplore rugged tablets is unmatched. When we had to send in our previous fixed terminal MDT for repairs or replacement, we'd have to dismount, pack, and ship a 20-lb CPU. The much lighter 2.95-lb Xplore R12 relieves those burdens and gives us the flexibility to use the tablets outside the vehicles if we decide to introduce additional mobile workflows using the PC platform in the future."
Both the Xplore F5m and Xplore R12 are highly ergonomic and ruggedized tablets built with the MIL-STD-810G, IP54,HazLoc protection and unique feature specifications demanded by police, fire, and emergency medical service (EMS) professionals. The Intel®-powered Windows® tablet computers feature bright View Anywhere® outdoor-readable displays, hot-swappable batteries and enough internal and external power to quickly move through computation-intensive applications all day long. Users enjoy the flexibility of both pen and touch-enabled data entry and uninterrupted 4G LTE, Wi-Fi, Bluetooth, and I/O connectivity with the critical data and additional crews that aid in response efforts.
As Mark Holleran, president and COO of Xplore, commented: "Public safety agencies were among Xplore's first customers 20 years ago, so we've always had a unique understanding of the highly specialized security, durability, and performance standards they mandate in every operational environment. That's why we're exclusively able to keep pace with their evolving communications technology requirements, help them anticipate and prepare for increased data dependencies, and take well-informed actions to align our product roadmap with their current and future mobility demands. The traction we continue to gain within the fire and EMS sectors is just more evidence that Xplore rugged tablets are the only PCs capable of reliably protecting and serving emergency personnel – and protecting their IT investments."
For more information on Xplore's rugged tablet solutions for public safety, please visit www.xploretech.com/publicsafety.
About Allegiance Technology
Since 2003, Allegiance Technology has helped customers choose the best rugged tablet for their needs. With expertise in Public Safety and Field Service, we will help you make the right choice for your organization. Let us help you pick the right tablet that works in your environment, with your software so you can do your job better. Visit www.alltp.com to learn more about how The Rugged Tablet PC Experts can help you.
About Ingram Technologies
Headquartered in Austin, Texas, Ingram Technologies markets integrated hardware and software solutions for mobile professionals in industries that include healthcare, government, and outside workforce automation. The company's enhanced line of rugged, mobile solutions and applications are designed to increase productivity for on-the-go users while providing computing security, power, and versatility. Comprehensive partnerships also give Ingram Technologies extensive access to a full spectrum of IT based hardware and software solutions. This allows for a consultative approach to specific projects instead of the traditional one size fits all. For more information, visit the Ingram Technologies website at www.ingramt.com. 
About Xplore Technologies 
Xplore is The Rugged Tablet Authority™, exclusively manufacturing powerful, long-lasting, and customer-defined rugged tablet PCs since 1996. Today, Xplore offers the broadest portfolio of genuinely rugged tablets – and the most complete lineup of rugged tablet accessories – on Earth. Its mobility solutions are purpose-built for the energy, utilities, telecommunications, military and defense, manufacturing, distribution, public safety, healthcare, government, and field service sectors. The company's award-winning military-grade computers are also among the most powerful and longest lasting in their class, built to withstand nearly any hazardous condition or environmental extreme for years without fail. Visit www.xploretech.com for more information on how Xplore and its global channel partners engineer complete mobility solutions to meet specialized workflow demands. Follow us on Twitter, Facebook, LinkedIn, and YouTube.
Request more info from Zebra Technologies
Thank You!