PRESS RELEASE
Xplore and CLS America partner to launch the Thorium X, the first satellite communications rugged tablet for global industries
---
Xplore secures initial 1,000-unit order for Xplore XSLATE D10 tablets, which will serve as the basis for this new CLS-branded mobile computing solution.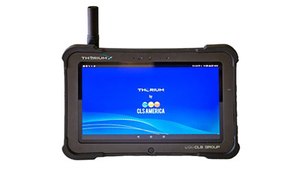 AUSTIN, Texas — Xplore Technologies Corp. (NASDAQ: XPLR) today announced that it has partnered with CLS America to launch the Thorium X, a first-in-class satellite communications tablet system built on the Xplore XSLATE D10 Android™ rugged tablet PC. Xplore received an initial order from OEM customer CLS for 1,000 XSLATE D10 units and is prepared to fulfill follow-on orders as needed over the next three years to support rising production and sales of the CLS-branded system as end-user demand dictates. The Xplore XSLATE D10 rugged tablet was exclusively chosen to serve as the underlying platform for the Thorium X rugged satellite tablet and software solution, which is now available to customers worldwide and will be showcased at Xplore's booth #3231 at DistribuTECH 2017 in San Diego, CA, January 31-February 2, 2017.
Noted Mark Holleran, president and COO of Xplore: "One of Xplore's strengths is the ability to engineer flexible rugged tablet technologies that allow OEMs such as CLS to customize and implement future-proof mobility solutions based on our industry leading platforms. By adding satellite data communications capabilities to the best Android rugged tablet on the market – the Xplore XSLATE D10 – CLS both expands the addressable market and enables increased ROI for customers with "off the grid mobile workforces."
The Intel®-powered Thorium X features an integrated Iridium Short Burst Data (SBD) modem and flexible satellite antenna that significantly expands the reliability, speed, and cost-effectiveness of mobile communications. As a result, users will be able to maintain continuity in their professional activities from any remote location around the globe – and most likely at a lower cost than most cellular data plans.
"We know that communications challenges in places or during times when no cellular or WiFi is available costs global industries and governments millions of dollars," explained Michael Kelly, vice president of CLS America. "Thorium X now allows people to stay connected via satellite 100 percent of the time, and at a fraction of the cost of satellite phones."
In fact, Thorium X users will have the unprecedented ability to access email, view statistical reports of missions, engage in M2M communication and monitoring, and send electronic forms – among other critical tasks – via satellite in real time. A bright, 10.1" outdoor viewable screen and Glove Touch capabilities make it easy to conduct secure, TPM 1.2-protected transactions day or not, even in inclement weather. Thorium X software solutions are also available as a tablet app and desktop platform to securely facilitate mapping functions, deliver weather reports, and perform data compilation and transmissions in real-time via the rugged satellite tablet.
"The launch of Thorium X means that users no longer have to rely solely on WiFi or cellular network connections. This is a huge win for people and teams who work in remote areas, or during times that other communications have been compromised, especially those supporting global operations related to Emergency Management, Military, Environmental Monitoring, Government, Fisheries, and other field-centric industries," Kelly continued.
"We believe that the successful launch and rapid customer acceptance of Thorium X is a significant win for Xplore and our OEM business," Holleran added. "As a leading global rugged tablet manufacturer, we remain very agile in responding to evolving market demands for highly specialized mobility solutions. This co-engineering effort with CLS is demonstrative of our ability to help customers solve complex problems for their end users very quickly."
For more information on the new Thorium X fully rugged satellite tablet, visit https://www.clsamerica.com/thoriumx. Live demos will also be available at Xplore's booth #3231 at DistribuTECH 2017 in San Diego, CA, January 31-February 2, 2017. Additional information about Xplore's XSLATE D10 rugged tablet can be found at www.xploretech.com/D10.
About CLS Group
With its range of products and services tailored to customer requirements, and its long-standing commitment to innovation, the CLS Group is a leading provider of location and data collection services and value-added products in the global marketplace. CLS America, in particular, has been providing satellite data intelligence to different end users for the past 30 years throughout the world.
About Xplore Technologies 
Xplore is The Rugged Tablet Authority™, exclusively manufacturing powerful, long-lasting, and customer-defined rugged tablet PCs since 1996. Today, Xplore offers the broadest portfolio of genuinely rugged tablets – and the most complete lineup of rugged tablet accessories – on Earth. Its mobility solutions are purpose-built for the energy, utilities, telecommunications, military and defense, manufacturing, distribution, public safety, healthcare, government, and field service sectors. The company's award-winning military-grade computers are also among the most powerful and longest lasting in their class, built to withstand nearly any hazardous condition or environmental extreme for years without fail. Visit www.xploretech.com for more information on how Xplore and its global channel partners engineer complete mobility solutions to meet specialized workflow demands. Follow us on Twitter, Facebook, LinkedIn, and YouTube.
Request more info from Zebra Technologies
Thank You!