PRESS RELEASE
Xplore launches new XBOOK B10 and XBOOK D10 detachable 2-in-1 mobile computers
---
Expands rugged mobility offering with versatile Windows® and Android™ solutions.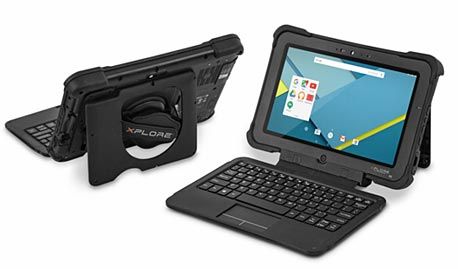 AUSTIN, Texas — Xplore Technologies Corp. (NASDAQ: XPLR) today unveiled two new detachable 2-in-1 mobile computers at DistribuTECH 2018:  The Windows®-powered XBOOK B10 and the Android™-powered XBOOK D10 rugged platforms designed to be laptop and desktop replacement solutions for enterprise organizations.
These 2.4lb rugged tablet-based mobile office solutions have been carefully equipped with the usability features, high-performance Intel® processing power and professional-grade security requirements that utilities, manufacturers and public safety agencies, among others, need to provide a consistent and easily-managed computing experience to both field-based and office-bound workers. Not only is the Xplore XBOOK designed to be a laptop for the office desk, but a full vehicle-mounted notebook and an easily transportable tablet with a spill-resistant detachable keyboard.
"The recent uptick in worker mobility has led to increased market demand for more convertible computing devices that equally satisfy the data-intensive workflow demands of employees who tend to spend their time at a desk, as well as those frequently called into the field," explained John Graff, vice president of marketing, Xplore. "That is why Xplore is now expanding its rugged computer portfolio beyond the traditional tablet-only offerings. The Xplore XBOOK detachable 2-in-1 is the ideal mobile computing platform – and laptop replacement – for nearly every field, industrial, and in-vehicle workflow. It is also the easiest, and most cost-effective, way to achieve complete Windows- or Android-based business mobility in a 10" form factor."
With an industry-leading number of I/O ports, advanced pen and Glove touch capabilities, reliable wireless connectivity and an easily attached spill-resistant keyboard and Kickstand, the Xplore XBOOK detachable 2-in-1 computer performs for workers who can't afford to be offline or "out of office" when they leave the office. Just grab and go with this lightweight, physically resilient tablet PC, which boasts a large, sunlight-viewable multi-touch screen for easy data collection, review and sharing, even when mobile in the field. An integrated fingerprint reader enables instant, secure access along with other multi-factor authentication options.
"By standardizing all workers on the XBOOK 2-in-1, organizations will immediately eliminate the complex IT challenges and expensive productivity disruptions experienced in a multi-device environment," Graff added.
To discover which one of these new 2-in-1 detachable rugged tablet solutions will be best for your business environment, please visit www.xploretech.com/XBOOK. 
About Xplore Technologies
Xplore is The Rugged Tablet Authority™, exclusively manufacturing powerful, long-lasting, and customer-defined rugged tablet PCs since 1996. Today, Xplore offers the broadest portfolio of genuinely rugged tablets – and the most complete lineup of rugged tablet accessories – on Earth. Its mobility solutions are purpose-built for the energy, utilities, telecommunications, military and defense, manufacturing, distribution, public safety, healthcare, government, and field service sectors. The company's award-winning military-grade computers are also among the most powerful and longest lasting in their class, built to withstand nearly any hazardous condition or environmental extreme for years without fail. Visit www.xploretech.com for more information on how Xplore and its global channel partners engineer complete mobility solutions to meet specialized workflow demands. Follow us on Twitter, Facebook, LinkedIn, and YouTube.
Request more info from Zebra Technologies
Thank You!