PRESS RELEASE
Xplore launches new XSLATE D10 rugged tablet PC with Android 6.0.1, Marshmallow operating system
---
OS upgrade to expand tablet battery life, worker productivity capabilities.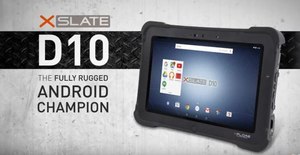 AUSTIN, Texas — Xplore Technologies Corp. (NASDAQ: XPLR) today announced its flagship Android™ rugged tablet, the XSLATE D10, is available with the upgraded Android 6.0.1 Marshmallow operating system. The Intel®-powered XSLATE D10 has long been considered the "fully rugged Android champion" in its 10.1" tablet class. This latest OS improvement provides Xplore customers with even greater return on investment (ROI) thanks to Marshmallow's security, power management and mobile device management enhancements.
"Companies of all sizes, across all global industries, come to Xplore because they need to mobilize their workforces with highly secure, highly versatile enterprise-grade computing solutions that won't compromise their sensitive data or the safety of their workers. They know that Xplore consistently builds and refines best-in-class rugged tablet solutions with the customers' best interests and big picture operational objectives in mind," explained Ron Harter, senior director of software development at Xplore. "With this latest XSLATE D10 OS upgrade, customers will maintain the Android-defined flexibility they mandate within their mobile IT environments but gain critical new computing functionality that will lead to performance and efficiency gains."
The new Android 6.0.1, Marshmallow OS improves the battery life of the Xplore XSLATE D10 rugged tablet more than 10 percent, extending the use time beyond 8 hours*. Google's latest battery optimization techniques work in combination with a new Marshmallow-specific application standby feature to prevent workflow applications from draining the battery and causing undue disruptions to the user. A hot-swappable second battery option provides up to 22 hours of continuous work time. The upgraded XSLATE D10 tablets also provide IT managers and users with several enhancements to the Android for Work and Voice Assist APIs, each of which will prove indispensable to organizations seeking greater worker efficiency and, therefore, faster application responsiveness.
"Often, when our customers first evaluate today's mobile computer options, they are shocked to find how many are either incompatible with existing software, unable to meet security standards, or incapable of connecting to existing systems," noted Josh Austin, CTO of OPEN Inc, the creator of SafetyPAD and an Xplore partner. "Our fire and EMS customers need complete, uninterrupted accessibility to critical data resources in and out of the office, and the Xplore XSLATE D10 rugged tablet is the only platform that enables them to easily leverage the inherent flexibility of Android. Xplore's overt attention to quality, connectivity, and performance in the engineering of the XSLATE D10 has enabled our customers to easily achieve every one of their mobility goals. The recently expanded OS features will enable us, as a software provider, to further optimize and scale our solutions."
The XSLATE D10 has been lauded for its user-friendly features, including a bright outdoor-viewable multi-touch display; eight standard I/O ports; and 4G LTE, Bluetooth, and Wi-Fi technologies. It also comes standard with several collaboration tools that enable hi-res image capture and video conferencing as well as multi-user login. The rugged tablet's numerous MIL-STD-810G tested, IP65-rated and ATEX/C1Z2-certified Hazardous Location safeguards combine with a 64GB Solid State Drive (SSD) to keep workers productive – and their work protected – in every environment.
The XSLATE D10, named Intel's 2016 Client Platform of the Year, is also a highly secure and fully managed mobile computing solution. It can easily be deployed, configured, secured, and upgraded using a number of enterprise mobility management (EMM) platforms, including Airwatch, MobileIron and SOTI Mobi Control. And customers benefit from the standard TPM, Kensington Lock option, and expanded security and encryption features now available via the Marshmallow OS.
For more information about the new Xplore XSLATE D10 Android platform, please visit www.xploretech.com/D10.
* Battery life will vary depending on usage model and device power management settings.
About OPEN Inc. (SafetyPAD) 
OPEN has been providing innovative and industry leading information management solutions to high performance EMS and Fire Services, including 8 of the top 30 EMS providers in the United States, for more than 20 years. OPEN's 5th generation cloud-based SafetyPAD system is a comprehensive, flexible, easy-to-use Electronic Patient Care Management software system that allows Emergency Services to collect, utilize, and share incident and patient data real-time, at patient side, on the latest mobile Android platforms as well as automatically monitor, analyze, and deliver critical information to key stakeholders. For more information about the SafetyPAD solution as well as customer success stories, please visit www.safetypad.com.
About Xplore Technologies
Xplore is The Rugged Tablet Authority™, exclusively manufacturing powerful, long-lasting, and customer-defined rugged tablet PCs since 1996. Today, Xplore offers the broadest portfolio of genuinely rugged tablets – and the most complete lineup of rugged tablet accessories – on Earth. Its mobility solutions are purpose-built for the energy, utilities, telecommunications, military and defense, manufacturing, distribution, public safety, healthcare, government, and field service sectors. The company's award-winning military-grade computers are also among the most powerful and longest lasting in their class, built to withstand nearly any hazardous condition or environmental extreme for years without fail. Visit www.xploretech.com for more information on how Xplore and its global channel partners engineer complete mobility solutions to meet specialized workflow demands. Follow us on Twitter, Facebook, LinkedIn, and YouTube.
Request more info from Zebra Technologies
Thank You!