PRESS RELEASE
Xplore Technologies' XSLATE B10 named a 2015 CRN​ ​Product of the Year
---
XSLATE B10 Honored in Rugged Category.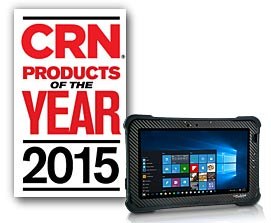 AUSTIN, Texas — Xplore Technologies Corp. (NASDAQ: XPLR), manufacturer of the world's broadest range of high-quality rugged tablet computers, announced The Channel Company's technology review arm, CRN® Test Center, named its XSLATE B10 a 2015 Product of the Year. Recognized companies represent best-in-breed technological innovation backed by a supportive channel partner program. XSLATE B10 received the award for the Rugged category. 
Throughout the year, CRN provides in-depth coverage of an extensive array of products across a wide range of categories. CRN's annual Product of the Year awards are selected by editors from among that pool. This year's highlighted award categories include Android devices, client software, components, data center, desktops, enterprise storage, Internet of Things, mobile, office equipment, PC sticks, peripherals, printers, rugged, security, SMB networking and SMB storage. Products are recognized for a number of factors, including quality, uniqueness of features, ease of setup and use, and ability to increase worker productivity and reduce cost and complexity for solution providers, IT departments and end users.
The Xplore XSLATE B10 was selected as a 2015 Product of the Year by CRN based on its full-featured and fully-rugged design and its ability to address both processing and connectivity concerns. The XSLATE B10 was also honored for its lightweight design with all the ports and battery life necessary for customers to stay active in the field for any critical industry.
"Technical excellence in products that have the ability to drive sales and create an immediate and long-lasting impact on a solution provider's business, backed by a technology vendor that understands and supports the channel, is a winning combination deserving recognition," said Robert Faletra, CEO of The Channel Company. "We salute our Product of the Year honorees for their determination to create products that provide real value and their desire to support the channel as their go-to-market strategy."
"We are excited for the XSLATE B10 to be chosen as a CRN Product of the Year," said Mark Holleran, Xplore Technologies President and COO. "The XSLATE B10 is the hardest worker yet and sets a new standard in ruggedness and connectivity. We are confident the XSLATE B10 will provide our channel partners with a winning rugged product that their customers will find great benefit and overall cost of ownership."
The 2015 Products of the Year are featured in the December 2015 issue of CRN and can be viewed online at crn.com.
About Xplore Technologies® 
Established in 1996, Xplore Technologies Corp. is the number two provider of rugged tablet PCs worldwide. With its recent acquisition of the Motion product line, the company now delivers the broadest range of rugged Windows and Android tablets available in the market. The company's award-winning tablet PCs are among the most powerful and longest lasting in their class – able to withstand nearly any hazardous condition or environmental extreme – and are purpose-built for the unique workflow demands of critical industries including oil & gas, utilities, telecommunications, government, military, public safety, manufacturing, distribution and healthcare. Xplore's products are sold and serviced on a global basis across the Americas, Europe, Middle East, Africa, and Asia Pacific regions. For more information, visit the Xplore Technologies website at www.xploretech.com. Follow us on Twitter, Facebook, LinkedIn and YouTube.
About The Channel Company 
The Channel Company enables breakthrough IT channel performance with our dominant media, engaging events, expert consulting and education and innovative marketing services and platforms. As the channel catalyst, we connect and empower technology suppliers, solution providers and end-users. Backed by more than 30 years of unequalled channel experience, we draw from our deep knowledge to envision innovative new solutions for ever-evolving challenges in the technology marketplace. www.thechannelco.com
Request more info from Zebra Technologies
Thank You!