PRESS RELEASE
Xplore unveils XSLATE D10 fully rugged tablet powered by Android
---
The Intel® Powered D10 is purpose-built for telecommunications, public safety, transportation, and distribution customers.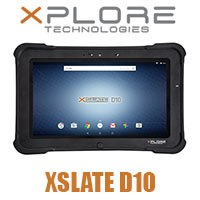 AUSTIN, Texas — Xplore Technologies Corp. (NASDAQ: XPLR), manufacturer of the world's broadest range of high-quality rugged tablet computers, today launched the XSLATE D10. With 4GB of RAM, 64GB of storage, and an Intel CPU, the XSLATE D10 pushes the boundaries of what is available on Android devices. The new XSLATE D10 provides customers with a full set of ports that can't be found on other Android devices, including two USB 3.0, RJ-45, an optional HDMI input, and more.
"Every day, we see more and more customers turn to the Android platform for their rugged technology needs," said Mark Holleran, Xplore Technologies President and COO. "The XSLATE D10 not only shows what's possible with a rugged Android device, but exemplifies our commitment to Android. With the XSLATE D10, our customers will continue to enjoy the latest mobile technology in a versatile and rugged form factor."
The D10 is designed to meet and exceed the needs of customers across vertical industries. Customers now have access to a premiere, fully rugged and lightweight tablet with all the ports and battery life necessary to stay active in the field, whether in telecommunications, transportation or distribution.
Key features of the Xplore XSLATE D10 include:
Fully Rugged 10.1" Tablet powered by Android
MIL-STD-810G with a 5' drop spec and IP-65 rating for dust and liquids
Class I, Zone 2 (US, CAN), ATEX Zone 2 safety classification
Android Lollipop 5.1 OS provides a robust security architecture and best ease of use
Lightweight for true mobility - sleek, thin design for easy transport (2.4 lbs)
All day battery life – up to 8 hours, 20 hours with hot-swappable external battery
Vibrant, outdoor and wide-viewable display for field applications, with 500 NITS & 800:1 contrast ratio
Android Lollipop OS 5.1 with Intel® Bay Trail E3845 Quad Core 1.91GHz Processor
Standard 64GB storage, 4GB RAM
Integrated 802.11ac, Bluetooth & 2.5m accurate satellite GPS
More ports than any other Android device: 2 full-size USB 3.0, micro SDXC, micro SIM card reader, Micro HDMI-Out, RJ-45 10/100/1000 wired ethernet
Kensington lock slot for physical security
The XSLATE D10 also comes with a variety of optional features, including a suite of carrying and docking accessories, an NFC module, HDMI input, WWAN 4G LTE, a second battery, and a bar code scanner.
To learn more about Xplore Technologies rugged tablet computers, visit www.xploretech.com.
About Xplore Technologies®
Established in 1996, Xplore Technologies Corp. is the number two provider of rugged tablet PCs worldwide. With its recent acquisition of the Motion product line, the company now delivers the broadest range of rugged Windows and Android tablets available in the market. The company's award-winning tablet PCs are among the most powerful and longest lasting in their class – able to withstand nearly any hazardous condition or environmental extreme – and are purpose-built for the unique workflow demands of critical industries including oil & gas, utilities, telecommunications, government, military, public safety, manufacturing, distribution and healthcare. Xplore's products are sold and serviced on a global basis across the Americas, Europe, Middle East, Africa, and Asia Pacific regions. For more information, visit the Xplore Technologies website at www.xploretech.com.
Request more info from Zebra Technologies
Thank You!