CBT vs. HOT: Striking the right balance between computer-based and hands-on training
With the shift indoors, many fire departments are reconsidering their balance between practical and online training
---
The COVID-19 pandemic has undoubtedly transformed the world in countless ways – and the fire service is no exception.
Many of the immediate shifts felt by fire service members included accelerations to already evolving issues.
One such shift, which was already being debated in both firehouses and training divisions alike, is the proper balance of training types – specifically, how much hands-on, practical training should be conducted compared to computer-based training (CBT). This question has been on the radar for many fire departments for years; however, social distancing and travel restrictions have propelled the discussion in the direction of CBT.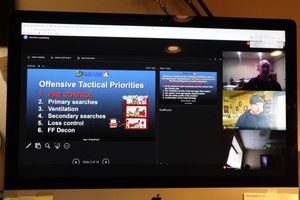 As we move forward through the pandemic, fire chiefs and training personnel will continue to work toward striking the appropriate balance for their departments, giving members time to train at a computer station as well as good old-fashioned tactile, on-the-job training.
Let's explore how each type of training best suits the fire service.
Hands-on training: The benefits – and the shift away
There aren't many members of the fire service who would argue the idea that practical hands-on training (HOT) is the preferred method of training. Whether your department has access to a formal training facility, an acquired structure, or a crew is conducting scenario-based training out on the apparatus bay floor, hands-on training is easy to translate into action when the tones drop. While a large training budget obviously helps, having an imagination and some simple props proves quite useful in building concrete skills.
So why do anything other than hands-on training? Why not build a department's entire training program around hose pulls, forcible-entry doors, vent-enter-isolate-search (VEIS), stand-pipe operations and mayday drills? These are questions I've either heard or been the one asking, especially after being given a training assignment that was anything other than hands-on.
Up until now, the only things pulling us off the bay floor and onto the watch desk computer were things like annual compliance training (e.g., HIPAA, exposure control plans, CPR/basic life support), EMS-related training for fire-based EMS organizations, or policy and procedure review, thus proving there are some trainings that simply don't lend themselves to a more hands-on experience. However, none of these tasks have been as persuasive in pulling us off the training ground as COVID-19.

While the situation isn't ideal, there is good reason for it – the safety of our members. By mid-year 2020, it quickly became clear that precautions like social distancing were effective in slowing the transmission of the virus. For many departments, this fact alone led to the transition from a predominately hands-on training focus toward a computer-centric training focus.
However, prior to COVID-19, fire departments were already seeing the benefits of CBT as a major component to their training schedules. Now, with COVID-19 as a catalyst, departments have continued to see the value and versatility of CBT – and many are considering further shifting the balance, even as we return to "normal" training operations.
This shift begs the question: Can we really gain all of the needed knowledge, skills and abilities (KSAs) to do our jobs from CBT?
Computer-based training: Connecting from a distance
Only a few years ago, many firefighters would have been unfamiliar with computer-based or online training, such as the FireResecue1 Academy. But today, most fire departments are familiar with or use some type of CBT to supplement their hands-on training. Even so, let's examine the primary types of CBT available to firefighters – and what they really can learn at a computer or mobile device.
Online synchronous training: Online synchronous training made its debut not too long ago, but it has already had a tremendous impact on the industry.
This type of training is typically conducted in real time and allows for participants to directly interact with the presenter(s), allowing instructors and participants to get as close to in-person as possible. It's a great way to bring together multiple fire stations in your district without having to physically congregate.
A webinar is a classic type of online synchronous training. (You're probably reflecting on the uptick in the number of webinar promotions you received during the pandemic, as fire service organizations sought new ways to share educational material.) A PowerPoint presentation can be shared and moderated, leading to thoughtful discussion pertinent to each individual department. Online synchronous training can cover a variety of information, from leadership and management training from nationally recognized fire service leaders to fireground strategy and tactics overviews to EMS-related instruction from their regional hospital network (many of which satisfy NREMT requirements), and everything in between.
Online asynchronous training: Asynchronous training has been around for quite some time but also saw a major uptick in usage over the last year.
This type of training typically consists of prerecorded information via webcast format. The trainings covered in this delivery method are less personal but often provide quality instruction on a variety of topics from proven sources of fire service knowledge. The bonus is that they can be viewed when convenient for members.
In this format, department members can complete a variety of trainings. However, asynchronous training lends itself to topics that can be self-paced and do not require any communication with the instructor, like the videos in UL's Firefighter Safety Research Institute Academy or on the National Fire Academy's online learning site, particularly command simulations.
LMS-based training: Learning management systems (LMS)-based training has also been around for quite some time; however, given the push indoors, many fire departments have moved toward this type of training as a primary component of their training schedule.
LMS-based training modules offer a variety of learning content in short chunks or in full course formats. The offerings span the entire spectrum of fire service topics, and can impact members' KSAs from the comfort and safety of the firehouse.
The major benefit to using LMS-based training is departments can offer CBT in a thoughtful manner, assigning their members training as standalone learning opportunities or in a series of related trainings. LMS-based training has also proven useful in filling the gaps for crews looking to train outside of their department's mandated training calendar. Crews can generate training ideas daily or reflect on recent calls, locating trainings on the LMS and aiding their on-the-job knowledge acquisition.
Integrating CBT and HOT
While this isn't a comprehensive list of CBT available to the fire service, it does represent the most used forms of CBT. Each type of CBT discussed has its strengths and limitations – and the ability to be a great supplement to hands-on training.
As many departments have already found, in most cases, CBT is well-used as an enhancement to a department's hands-on training exercises. Members can associate a CBT session with the practical training focus of that day, week or month. Members can view the didactic version of the training individually or in small groups from the firehouse via pre-recorded webinar or LMS-based learning modules before putting it into practice on the drill ground.
In some cases, these types of training can even stand alone. There is and will likely continue to be a steady stream of live webinars that are being taught by some of a variety of fire service leaders. Some of these presenters are even offering a training series on topics that build upon each successive week or month's training. This strategy may prove to be extremely useful in areas such as officer training.
Cooperative, not competitive
So, going back to that question we posed before: Can we really gain all the KSAs to do our jobs from online or CBT? The short answer is no; HOT will always provide a practical approach to some elements of our work that cannot be replicated by a computer; however, CBT is a powerful tool that, used in conjunction with HOT, can propel our members to the next level while also being cognizant of time constraints and budgetary limitations.
While there is inherent value and use for both CBT and HOT, as COVID-19 is brought under control, it will be the task of each department to find the right balance between the two. It might also be helpful to view the relationship as cooperative rather than competitive, using each type where it makes sense and is most impactful to your members and community.
Watch Chief Billy Goldfeder tackles the question, "Is online training legit?"

Request product info from top Firefighter Online Training companies
Thank You!