How to join a fire academy
While completing fire academy training is a rigorous challenge that's not for everyone, it's a necessity if you want to enter the rewarding field of firefighting
---
If you want to become a firefighter, then you have to undergo training at a fire academy. But before you can do that, you must go through a rigorous application process to see if you will qualify for a career in firefighting.
Fire academy requirements
Every fire academy has different requirements, but most will want you to be between the ages of 18 and 45 and to have a high school degree or equivalent. Whatever your age, you must be in excellent physical and mental condition to be able to pass the rigorous training of the fire academy.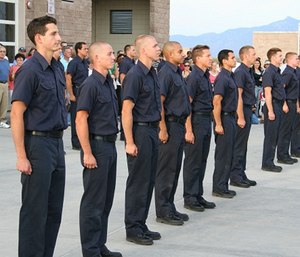 After you've completed your application to the fire academy, you'll also undergo:
Complete written testing
Aptitude testing
Physical fitness testing
Health examinations
Background checks
Mental health screening
You must also supply character and job references as part of the application process for admission.
Fire academy length
The average fire academy program takes about 12 to 14 weeks to complete a total of 600 hours of training.
While most programs want all students to enter at the same time, some have staggered entrance options. Generally, you'll need to commit anywhere from 40 to 48 hours weekly to undergo the program.
There are also programs that are geared toward working people. These offer night and weekend training that can be completed in a longer period of time. Many local colleges have fire training programs that offer two and four-year degrees in fire science and other related fields that prepare you for various levels of employment as a firefighter.
Fire academy education
During the classroom portion of fire academy training, students learn the mechanics and technical aspects of firefighting. Because the only way to learn how to fight fires is through actual experience with burning buildings, live-fire training is part of fire academy education. This means that fire academies set fire to buildings to conduct training drills with their students.
During these exercises, students:
Learn how to think and function clearly and skillfully, using what they've learned in the classroom in real-life fire situations.
Are outfitted in multi-layered protective clothing that can withstand temperatures of up to 1,200 degrees. Students also wear an SCBA that weighs about 30 pounds.
Once equipped, the students enter the burning building in a line, flanked by their instructors, one on each end of the line. Here they practice handling and operating a fire hose, positioning themselves all on the same side of the hose at an arm's length distance from each other.
Another group of fire academy trainees move the hose line forward as the initial team moves deeper into the burning building. As they approach the fire location, they assume a crawling position and one person operates the hose nozzle, with the other team members supporting the hose.
While completing fire academy training is a rigorous challenge that's not for everyone, it's a necessity if you want to enter the rewarding field of firefighting.
This article, originally published in January 2011, has been updated
---
---