PRESS RELEASE
Masimo announces distribution of Rad-57® Pulse CO-Oximeters® by the Jeffrey Lee Williams Foundation to First Responders
---
Foundation awards devices to York County EMS departments to assist in monitoring for presence of carbon monoxide
ROCK HILL, S.C. — Masimo (NASDAQ: MASI) announced today that The Jeffrey Lee Williams Foundation has distributed 20 Masimo Rad-57® Pulse CO-Oximeters® to EMS departments in York County, South Carolina, with the majority going to Piedmont Medical Center EMS. The Foundation purchases equipment that assists in monitoring for the presence of carbon monoxide (CO) and donates it to the community and local fire and first response agencies. The Rad-57s were awarded to the departments at an event on November 6.
The Jeffrey Lee Williams Foundation was founded in 2013 to honor the tragic loss of Jeannie Williams' son Jeffrey at the age of 11 to CO poisoning. Its mission is to help prevent CO poisoning by facilitating the distribution and placement of equipment to detect and monitor for CO. Currently, the Foundation is working in York County to sponsor the distribution of 2,000 CO alarms among all 18 fire districts in York County for installation in residential homes, the distribution of 45 "always-on" CO monitors among fire departments and EMS departments, and the distribution of the 20 Masimo Rad-57s to first responders and EMS departments.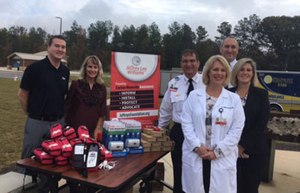 CO poisoning is a leading cause of unintentional poisoning deaths in the United States. In addition, just one severe CO exposure event nearly doubles the risk of premature death, and consistent CO exposure may cause long-term heart and brain damage. Even mild levels of CO circulating in the blood rob the heart and brain of oxygen, which can cause mental confusion, leading to poor decision making and increasing the risk of heart disease or stroke – two conditions that account for nearly 50% of on-duty firefighter deaths.
Rad-57 provides oxygen saturation, pulse rate, and perfusion index measurements using SET® Measure-through Motion and Low Perfusion™ pulse oximetry. In addition, it includes SpCO®, a noninvasive rainbow® parameter, to measure the amount of carboxyhemoglobin in red blood cells; carboxyhemoglobin forms after exposure to CO. Noninvasive SpCO monitoring may lead to the identification of elevated CO levels that might otherwise go undetected in front-line settings.
Amber Williams, Co-founder of The Jeffrey Lee Williams Foundation, South Carolina, "We are thrilled to offer Piedmont Medical Center EMS and two other rescue squads the Rad-57s! These devices will provide quick, noninvasive, objective data to responders to assist in the identification and treatment of CO exposure in our community."
Jeannie Williams, Co-founder, added, "Thank you Masimo for your support as we work to help others in Jeffrey's memory."
Joe Kiani, Founder and CEO of Masimo, said, "We are saddened by the loss of life due to CO poisoning and delighted to help support The Jeffrey Lee Williams Foundation's important work. We hope that Rad-57 and SpCO technology can help to identify elevated CO levels in York County EMS responders, firefighters, and civilians."
SpCO is intended to be used to monitor CO levels in the blood and is not intended to be used as the sole basis for making diagnosis or treatment decisions related to carbon monoxide poisoning. SpCO monitoring is not intended to replace laboratory blood testing; blood samples should be analyzed by laboratory instruments prior to clinical decision making.
About Masimo
Masimo (NASDAQ: MASI) is a global leader in innovative noninvasive monitoring technologies. Our mission is to improve patient outcomes and reduce the cost of care.

Request more info from Masimo Corporation
Thank You!