Utah fire dept. first in nation to buy injury-reducing backboards
The EZ Life Rescue System is designed to make patient transportation less strenuous on firefighters
---
By Jeff Finley
Deseret News
SANDY, Utah — Fifty percent of all firefighting injuries are caused not by smoke inhalation or burns but by strains, sprains and muscular pains. The Sandy Fire Department is looking to do something about that.
The department became the first in the nation to buy three new state-of-the-art backboards long straight boards used for carrying people who have been injured from the scene of an accident to the ambulance.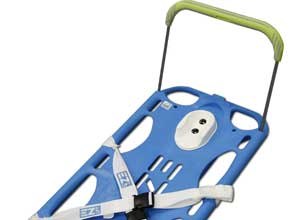 The EZ Life Rescue System backboards engineered and made in Park City are designed to allow firefighters to lift from a safer position, reducing the possibility of injury.
"I was really interested in backboards because they are a problem for us, for our patients," said Dr. Robert Heck, the inventor of the EZ Lift Rescue System and an emergency physician who works with paramedics on a daily basis. "And then I found out they are really a problem for the paramedics, too."
The backboard is designed to reduce stress by more than 50 percent on the knees and backs of the firefighters by using handles that extend out of the end of the backboard.
"Back injuries for the paramedics are a huge huge problem," Heck said. "One in four EMT or medics that starts work ... will be out after four years because of back injury." Heck said that the new backboard is also designed to help patients be more comfortable and better hold them in place. "That's where this all came about, to redesign the backboard," Heck said, "so that it is more functional for the patients, it's more comfortable for the patients and, at the same time, it works better for the paramedics."
According to a 2007 study by the National Fire Protection Association, 51.7 percent of all firefighting injuries are a result of a strain, sprain or muscular pain. Back injuries fall into this category. The Sandy Fire Department is the first to receive the EZ Lift backboards, which were developed by Zien Medical, a Utah medical engineering company focused on launching new products that help medical professionals.
EZ Lift Rescue System is expecting to selling more than 1,000 backboards by the end of the year. Jayden Garfield, a master's student in biomedical engineering at the University of Utah, was the project manager for the backboard at Zien Medical. "I've had a chance to learn quite a bit and actually apply things we learned," Garfield said. "To see it come to fruition is a very rare and unique experience and I'm very privileged for that."
Also involved in the project was a high school student that was put in touch with Zien Medical through Bioinnovations Gateway ? BiG ? a state program that helps find high school students internships with entrepreneurial companies like Zien Medical. "I engineered the rails that allow the handles to extend," said Skyler Godfrey, a senior at Skyline High School.
Godfrey was introduced to BiG through the career center at Skyline, and BiG referred him to Zien. EZ Lift Rescue Systems managing partner Dave Robinson said once firefighters and paramedics use their backboard, they won't want to go back to the old ones. "We don't want them to replace them all," Robinson said, "just five, and they will find that they don't want to use the old ones anymore."
Copyright 2012 The Deseret News Publishing Co.
Request product info from top Patient Transport companies
Thank You!