What do you do after the lift assist?
Helping a fall patient back into bed, a chair or onto the ambulance cot should launch risk mitigation in the patient's home to prevent future falls
---
A 70-year-old man fell on an early morning walk. Though he was a few steps away from his driveway, he wasn't able to get himself off the ground. Fortunately, a neighbor, also out for a walk, was able to help the man to a standing position. At that time, the man had a cut on his hand from the fall, and reported that he hit his head; but didn't lose consciousness, and had pain on his upper left leg. Once standing, he was able to shuffle limp back to his home and went inside.
A few hours later, the neighbors called the man to see how he was doing. He reported that he felt faint when he tried to get out of bed, was not feeling well and might need to go to the hospital. During the phone call, the man's speech suddenly became garbled. The neighbor called 911 and rushed to the man's home, arriving a few minutes before the ambulance.  
When you arrive on the ambulance, the man is seated at his kitchen table, speaking normally and not sure what he should do. He reports that he got nervous while he was on the phone, which led to him having trouble finding words. You check for facial drooping, arm drift and speech. All are normal. The man has a headache and a large hematoma on his leg. He doesn't want to ride to the hospital in the ambulance, and the neighbor offers to drive him to the walk-in clinic, in the same building as the emergency department. Your crew obtains a refusal and clears the scene.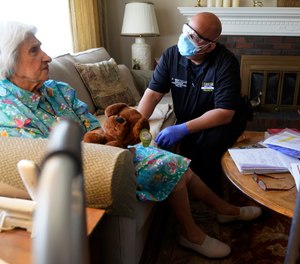 Does this call sound familiar to you? Lift assists or assessments after a fall are routine for most fire and EMS personnel. What's your approach for a fall patient?  
The routine lift assist might be the best opportunity to make a life-saving difference for any patient that isn't experiencing any immediate life-threatening illness or injury. After assessing the patient for injury and assisting them to a position of comfort in a chair or bed, do you seize the opportunity to improve the safety of their living environment, or do you exit the scene with a signed "treated and no transport" as quickly as possible?
Reducing fall frequency 
Because falls are the leading cause of injury, accidental death and premature placement in a nursing home among older adults in the United States, researchers from the Washington University School of Medicine in St. Louis tested the effectiveness of a fall prevention program. The study was conducted with the occupational therapists from the St. Louis Agency on Aging but could be replicated with community paramedics.  
Patients, all 65-years-old and older and without dementia, were randomized into two groups. The experimental group received in-home visits from occupational therapists to assess fall risks and create personalized plans to reduce those risks. Interventions for the experimental group included the installation of grab bars and tub chairs to make toileting and showering easier and safer. The control group received standard care, like a review of medications and referral to community services. 
Study participants in the experimental group still fell during the study period, but at a lower annual rate than participants in the control group. The study reported: "The annual rate of falls per person was 1.5 falls per person in the intervention group and 2.3 falls per person in the control group. The average per-person cost of intervention was $765, and per-person declines in healthcare utilization were estimated to be $1,613." The intervention pays for itself, returning $2 of benefit for every $1 spent.  
[Read the JAMA article online: Home hazard removal to reduce falls among community-dwelling older adults: A randomized clinical trial]
Falls are preventable
The annual Falls Prevention Week raises attention to the problem of geriatric patient falls, the injury and mortality consequences of falling, and efforts to reduce and prevent falls. Check out these Falls Prevention Week resources for healthcare professionals, including fire/EMS personnel, from the National Council on Aging.  
Unlike every other healthcare specialty, fire/EMS sees patients in their living space. In addition to assessing and treating injury and illness, fire/EMS personnel can identify falls risk and might be able to mitigate those risks with a few simple actions or education messages:  
Tuck a cord for a lamp behind a piece of furniture; 
Pull the lumps out of a throw rug (or explain to the patient that the throw rug is a trip hazard);
Encourage the patient to turn on more lights as they move through the house; 
Bring all of the patient's prescription and over-the-counter medications to the hospital so hospital staff can identify and remedy medication conflicts that might be affecting the patient's balance and mobility; and 
Refer the patient to programs that mitigate hazards, like installing grab bars or loaning out shower chairs. 
Go beyond the chore completion 
I adore the news accounts of paramedics who shoveled a patient's driveway after he fell ill, firefighters who finished the lawn care for a man who fell, and the firefighter/paramedic who finished cooking breakfast for a woman who fell in her kitchen. We all need more good news. These crews deserve the recognition and accolades they receive for going above and beyond.  
Lifting the patient off the ground and into a chair or bed is the launch point for risk mitigation, not the end of treatment. Finishing the chore at hand, whether shoveling, mowing or cooking, is a nice-to-do service, but fire and EMS personnel should stretch themselves to make a more significant and lasting impact. At the least, non-transport lift-assist patients should receive an offer of a follow-up visit for fall risk identification and mitigation. This could become a service offered by the department or provided in partnership with a local department of aging, like the St. Louis program.  
Patients who are transported to the hospital by ambulance or a private vehicle after a fall are also candidates for fall hazard mitigation, as most of them will return home to the same environment where their fall occurred. There might be an even more urgent need for these patients, as they often are discharged with new mobility limitations and additional medications. 
Firefighter/EMT Kimberly Rideout is a fire and life safety educator who specializes in reducing fall risk. Rideout told the Chesterfield Observer that she visits seniors at recreation centers, churches and civic groups to advise them on changes they can make to lower the risks of falling: "Clear walkways, [adding] grab bars, wearing sturdy shoes, non-slip rugs, making sure they don't have carpeting that bulges up [or] different levels or transitions going into rooms … anything you're going to trip over," Rideout said.  
Future fall risk
The 70-year-old driven to the hospital by the neighbor was discharged a few hours later with a diagnosis of a concussion, rib bruising and left leg hematoma and pain. The man was told to come back if he didn't improve or his pain got worse. But he didn't receive a referral from the EMS crew or the hospital staff to a fall mitigation program or physical therapy to improve his strength and dexterity. Given his current mobility impairments, the steps leading in and out of his home, plus the many trip hazards in his cluttered, dimly lit home, a future fall isn't a matter of if, but when.   
---

Read next
9 fall prevention tips for EMS providers to share with friends, family, and patients
Injury prevention, especially of geriatric falls, is an important responsibility for EMS providers
---
Request product info from top Patient Transport companies
Thank You!