PRESS RELEASE
Dick Ferneau Paid EMS Service of the Year Winner Honored During EMS World Expo
---
Agency exemplifies spirit and character of Ferno co-founder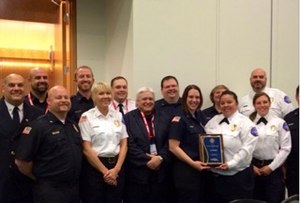 Nasvhille, TN, Nov. 11, 2014 – Ferno-Washington, Inc., the global leader in emergency pre-hospital patient handling equipment, is pleased to announce Christian Hospital Emergency Medical Services (CHEMS) in St. Louis, MO is this year's recipient of the Dick Ferneau Paid EMS Service of the Year Award.  The award was presented to CHEMS as part of the National EMS Awards of Excellence Presentation during the EMS World Expo in Nashville, TN.
"Receiving the Dick Ferneau Paid EMS Service of the Year is a great honor for our department," said Chris Cebollero, EMS Chief for CHEMS.  "We are very proud to be recognized as leaders in our community and role models in our industry with a vision of delivering the highest quality of patient care, exemplifying the same traits as Mr. Ferneau," he added.
The Dick Ferneau Paid EMS Service of the Year Award is sponsored by Ferno in honor of its co-founder, Dick Ferneau.  Ferneau, who passed away in 2009, was a true pioneer of the EMS industry.  From the time he was a teenager and until his death at the age of 90, Dick engineered many designs and concepts, many of which still impact the EMS industry today.  He listened endlessly to the evolving needs of caregivers and first responders, and worked feverishly to develop innovations to help make their jobs safer, easier and more efficient.  Dick was also a compassionate, servant leader who, alongside Ferno co-founder and chairman, El Bourgraf, made many local and global contributions as Ferno continued to expand its international footprint.

The Dick Ferneau Paid EMS Service of the Year Award pays tribute to agencies that exemplify Dick's spirit and dedication to continuous improvement, and reflect his character as a humble and compassionate friend and philanthropist.   Agencies are evaluated in the following areas: EMS education and training, innovations in pre-hospital care and protocol, community involvement, EMS system/program upgrades, worker safety, injury and illness prevention, and public education projects.

"Christian Hospital Emergency Medical Services is passionate about furthering the education of its employees and takes that passion into the community with various outreach programs.  We were also impressed by how CHEMS leverages the latest technology to improve the accuracy and efficiency of patient care through its hospital-based mobile integrated healthcare" said Jerry Socha, Marketing Director for Ferno.

CHEMS provides 911 and patient transport within the CHEMS facilities to more than 250,000 people in the St. Louis area.  The agency employs over 100 people, from dispatchers to full-time responders.
About Ferno:
Ferno is the global leader in pre-hospital emergency care solutions serving emergency services, including EMS, fire rescue, mortuary, industrial safety and police.  Ferno exports to more than 150 countries and has partnered with EMS, safety and regulatory agencies, and customers globally to create a new vision for delivery of emergency care.  The company employs a dedicated team of customer-focused industry experts who are ready to share that vision with you.  For more information, visit www.FernoEMS.com.
Request more info from Ferno
Thank You!