4 DC firefighters receive PBI Golden Knights award
During fire's knockdown, firefighters received burns, other injuries of varying degrees attempting to save house
---
WASHINGTON — Four DC-area firefighters were awarded the PBI Golden Knights award after being injured in April 2011.
Firefighters Warren Deavers, Ramon Hounshell and Charles A. Ryan III along with Lt. Robert Alvarado of D.C. Fire and Emergency Medical Services Department received the award April 26 for their response to a house fire last year, said a release from PBI.
"The PBI Golden Knights salutes firefighters who, when the alarm sounds, respond," the release said.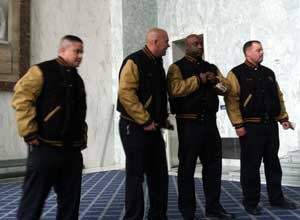 "Handled it like any other run we would go on," Lt. Alvarado told MyFoxDC. "The same way each time, we're very methodical with the procedures we go by and we follow them to the letter."
During the fire's knockdown, the four firefighters received burns and other injuries of varying degrees attempting to make it out alive. Three of the men made it out on their own, but the fourth was saved by a rapid rescue team.
"We knew where we were going," Firefighter Deavers told MyFoxDC. "We went in the right direction right off the bat and it's something that they train you to do. You don't lose your cool."
"This is a testament to how firefighters are trained and why PBI Matrix was designed — to guard against the unexpected," said PBI President Grant Reeves. "Let's hope that most firefighters never have an experience such as this."