ONESuit Shield offers premium Level B protection and value
Firefighters Saint-Gobain Performance Plastics unveiled new suit at FDIC in Indianapolis
---
The design team at hazmat suit manufacturer Saint-Gobain Performance Plastics got this feedback from firefighters: they loved their Level A suits, but wanted more.
Firefighters wanted a suit that they could wear for longer periods of time, and that was designed up to Saint-Gobain's same industry-leading standards as their Level A suits. They also wanted a suit that was affordable and could be used in scenarios that do not require as much protection as ones where a Level A suit is necessary.
Enter the ONESuit Shield, Saint-Gobain's new Level B suit, which was unveiled at FDIC in Indianapolis. Saint-Gobain's first foray into Level B garment design, the ONESuit Shield offers a high level of protection but with much more comfort than a Level A suit.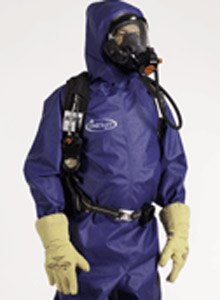 Saint-Gobain Market Manager Peter Kirk explained that Level B suits are useful in controlled scenarios, where the department knows exactly what kind of chemical danger they're facing before responding.
"For departments able to assess a threat ahead of time to know they can go in with a lower-rated garment, the ONESuit Shield offers more visibility, less bulk, and a greater overall comfort experience than any Level A suit," Kirk said.
The ONESuit Shield's high performance is attributed to the facemask interface, which is vapor tight while allowing breath to escape into the air outside the suit (rather than being trapped inside the suit, as it is with Level A suits). The result is a suit that stays cooler, allowing wearers to keep it on for longer periods of time.
The ONESuit Shield's increased comfort comes partly from its conforming fit and flexible suit fabric. With their Coretech Barrier Membrane, Saint-Gobain developed a system for embedding fluoropolymer film into dissimilar materials, such as thermoplastics and woven and non-woven fibrous substrates.
The resulting fabric maintains a high level of protection while staying flexible and comfortable, so much so that it actually resembles normal clothing, Kirk said.
The ONESuit Shield is certified to both NFPA 1994 Class 2 and NFPA 1992, making it fully applicable to the military, homeland defense, industrial, firefighters, law enforcement, and other first responders. Having both certifications eliminates the need for two separate garments, Kirk said.
He added that the suit will cost about one-third of Saint-Gobain's Level A models. At that price range, and with a 10-year shelf life (twice the lifecycle of other suits), the ONESuit Shield is a solid investment for departments looking to expand their hazmat garment options.
Saint-Gobain Performance Plastics is a leading producer of engineered, high-performance polymer products, serving virtually every major industry across the globe. You can find them on the Web at www.protectivesystems.saint-gobain.com

Request product info from top Personal Protective Equipment - PPE companies
Thank You!