MSA displays next-generation SCBA at FDIC
Company's Cairns Defender Visor is also now compliant with NFPA 1500
---
By Scott M. Bruner
FireRescue1 Product Editor
One of the most popular destinations at FDIC in Indianapolis was the MSA booth, where the company was demonstrating what could be the future for SCBA. Last month, the IAFF and the Department of Homeland Security selected MSA to build them a prototype, based on pressure-vessel technology, for testing in the fall.
"We were pleased to be selected by the IAFF and DHS to help improve firefighter safety," said Henry Fonzi, a product line manager for First Responder SAR with MSA. "We expect to have 15 units fully functional by October — and 24 in total — to be able to prove the concept."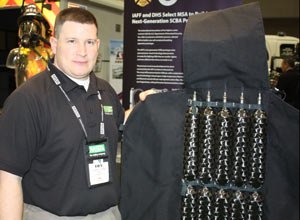 The new-style SCBA will use a special high-temperature lining, consisting of Kevlar, and are wound with carbon fiber, instead of the conventional aluminum liners used in current technology. They can handle operating pressures up to 4,500 psi and include a soft cover that allows them to bend and flex during use.
The difference in profile and weight distribution are the main advantages for switching from conventional SCBA to the pressure vessel technology. The weight of the new cylinders in the SCBA, which were designed and manufactured by Vulcore Industrial, is approximately 4 inches closer to the body and more evenly distributed, enhancing comfort and maneuverability. Another goal of the program is to maximize weight reduction while maintaining durability.
The IAFF also had a booth at FDIC featuring a similar prototype and spent most of their day fielding questions on when the technology would be a reality. After MSA's prototypes have been adequately tested and the technology proven, the IAFF expects manufacturers to bring them to the marketplace.
"People are asking 'When can we get our hands on it and how much will it cost?'," IAFF Jim Brinkley, director of occupational health and safety for the IAFF, said. "MSA has been fantastic…Their support for the project has been outstanding."

Cairns Defender Visor
The other major announcement MSA had was that their Cairns Defender Visor is now considered compliant as primary eye protection as defined by NFPA 1500. It can now be classified as a spectacle under NFPA 1500 and it's always been compliant as a face shield under NFPA 1971.
"What it means is that firefighters no longer have to carry safety glasses or goggles," Ben Mauti, product line manager for the Cairns Helmet division of MSA, said. "This is the only visor on the market that's integrated into the fire helmet."
The retractable visor comes in either a Tuffshield amber or clear option.
Established in 1914, MSA is one of the world's leading manufacturers of safety products designed to protect people throughout the world. You can find them on the Web at www.msanorthamerica.com/.