Report stresses use of SCBA after W. Va. mobile home LODDs
---
By Ken Robinson
FireRescue1 Staff
CRAIGSVILLE, W.Va. — Investigators are stressing the need for firefighters to use SCBA during all stages of fires after finding that two West Virginia firefighters were not wearing face pieces at the time of their deaths in a mobile home fire.
Investigators could not determine if volunteer Lt. Johnnie Hammons and firefighter Timothy Nicholas, both of the Craigsville Beaver Cottle Fire Department, were on air when they entered the mobile home on February 19 earlier this year, according to a NIOSH firefighter fatality report issued Monday.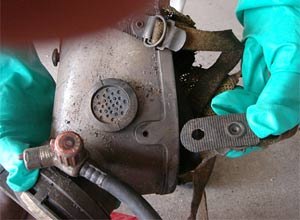 Several attempts were made to locate the victims after they failed to respond to evacuation calls, and their bodies were eventually found several feet from the front door they had entered through.
The firefighters' bodies were discovered without properly donned protective equipment.
"Both victims' face pieces were found hanging at waist level with their regulators attached, possibly indicating that they were stored in this manner," the report said.
The victims were also discovered with their hoods rolled down on their necks, and investigators say Lt. Hammons' helmet was found melted on a couch next to firefighter Nicholas "as if it had been taken off and laid there."
The firefighters' face-mounted regulators were discovered hanging at waist level, connected to the SCBA face pieces, which were covered by soot on the outsides and insides.
Medical examinations revealed the firefighters died from smoke inhalation and thermal inhalation burns, with lethal doses of cyanide present in their systems.
The report also recommends fire departments ensure that all SCBA are equipped with an integrated personal alert safety system (PASS) device, after investigators found the victims were using SCBA that did not have integrated or standalone PASS devices.
Investigators also recommend that all firefighters should be equipped with a means to communicate with fireground personnel before entering a structure fire, as the victims were discovered without their department-issued radios which were later found at the fire station.
"Radio communications on the fireground is imperative for the IC to command and control the incident and for fire fighters working within a structure fire," the report said. "Firefighters within a structure are unable to see all areas affected by fire and whether the structure is maintaining its stability."
In conclusion, NIOSH recommends fire departments minimize the risk of similar occurances by:
• Ensuring firefighters use their self-contained breathing apparatus (SCBA) during all stages of a fire due to the potential exposure and health affects of fire-produced toxins
• Ensuring that all SCBAs are equipped with an integrated personal alert safety system (PASS) device
• Ensuring that all firefighters are equipped with a means to communicate with fireground personnel before entering a structure fire
• Ensuring that the incident commander (IC) does not become involved with fire fighting activities
• Ensuring that the incident commander (IC) maintains close accountability for all personnel operating on the fireground and that procedures and training for the use of a personnel accountability report (PAR) are in place
• Ensuring that a properly trained incident safety officer (ISO) is appointed at all structure fires
• Ensuring that a rapid intervention team (RIT) is established and available to immediately respond to emergency rescue incidents
• Ensuring that hoseline operations are properly coordinated so as not to impede search-and-rescue operations
• Developing, implementing, and enforcing written standard operating procedures (SOPs) for fireground operations
• Ensuring that all firefighters properly wear their department-issued turnout gear and personal protective equipment (PPE) during fire suppression activities
• Developing and maintaining a comprehensive respiratory protection program
• Ensuring that firefighters are aware of the dangers involved in fighting mobile home fires
• Ensuring that policies and procedures for proper inspection, use, and maintenance of self-contained breathing apparatus (SCBA) are implemented to ensure they function properly when needed