Is it time to retire leather helmets?
As standards in PPE have changed to include updates in care and maintenance as well as cancer preventative initiatives, Cairns has kept up
---

By Vince Bettinazzi for FireRescue1 BrandFocus
The leather fire helmet is one of the most iconic symbols in the fire service. With its foundation starting in the early 1800s from New York City, leather fire helmets have been an appreciated staple, much like smooth bore nozzles and red fire trucks.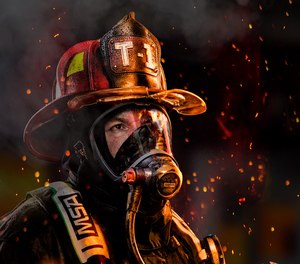 But is it now time to retire these legacy items and replace them with their composite counterparts?
The legend and legacy of Leather helmets
Since 1836, Cairns has been a manufacturer of the most recognizable leather helmets in service today. The New Yorker, which pays homage to its humble ancestry from the early days of New York City's volunteer fire companies, is a coveted item, especially with the "Bronx Bend" to the brim. The Houston style, known for its gentler-sloping side brims and lower profile, is proudly worn by firefighters everywhere.
The leather fire helmet screams traditional. Firefighters are fond of their look and rave about how comfortable they are when worn. In some cases, these helmets have served an entire career with the owner (when diligently maintained). Cairns even produces smaller ceremonial leather helmets intended to be presented as an award or a retirement gift. 
But how has Cairns been able to adopt to the status quo in order to ensure that their leather helmets are a relevant option on the fire ground?
Can leather compare to the composite helmet?
Cairns is widely regarded for their composite helmets too. The 1010 model is their basic traditional-style lid, which resembles the bold image of the New Yorker. The 1044 model boasts a matte finish instead of the glossy painted look of the 1010, while the newly-released 880 model is advertised for its smallest profile in comparison to the other traditional models Cairns produces. This model is also affectionately named "Chicago."  All these models meet or exceed the expected standards in the fire service. They are made to be strong much like the first leather helmets were intended to be in order to meet the demands of a tough job.
Evolving to meet cancer-prevention needs
Since September 2018, Cairns has featured replaceable "soft goods" for their leather helmet styles. These features, which include the brow pad, liner, ear flaps and Nomex chin strap, can be removed for cleaning after use. This is important to note as it now allows the owner to properly decontaminate and maintain their helmet while adhering to the accepted cancer prevention directives for firefighting. The Houston meets the NFPA's 1971 standard for protective equipment, while the New Yorker satisfies OSHA. As a reminder, NFPA recommends the replacement of fire helmets every 10 years.
Maintenance on leather helmets is intended to be minimal. Inspecting the helmets after use for cracks is obviously important but maintaining the helmet's exterior paint coating is also important for protecting the leather core. This outer paint coat allows the lid to be easily wiped clean of debris.
Initially developed to be both tough and functional on the fire ground, leather helmets provided these benefits to the wearers. Leather was the chosen material due to its fire-resistant nature and durability.
As standards in PPE changed to include updates in the care, maintenance, and cancer preventative initiatives, leather helmets were considered to be dinosaurs on the brink of extinction. However, with Cairns quickly adopting to the newest standards while also offering their two great looking options, we are here to tell you leather fire helmets are here to stay.
About the author
Vince Bettinazzi joined the Myrtle Beach (S.C.) Fire Department in 2007. He currently holds the rank of battalion chief and is assigned as a shift commander on C-Shift. Bettinazzi is a member of the department's Ocean Rescue Team as a certified USLA lifeguard. He completed the NFA's Managing Officer Program in 2016, and recently obtained his Chief Fire Officer Designation from CPSE. Bettinazzi is a co-host on the "Beyond the Stretch" podcast.

Request information from Witmer Public Safety Group, Inc.
Thank You!