PRESS RELEASE
Bullard introduces TXSTM Thermal Imager
---
New, Decision-Making Thermal Imager is the Most Affordable in its Class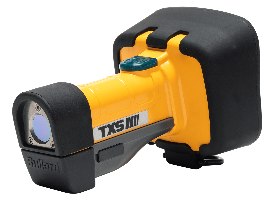 LEXINGTON, Ky. – Bullard, the 123-year-old company known for its invention of the hard hat, introduced today its new TXSTM Thermal Imager. The most affordable thermal imager in its class, Bullard's TXS Thermal Imager makes it possible for fire departments to have life-saving, decision making imagers in the hands of more of their firefighters.
The TXS Thermal Imager is lightweight and palm-sized, weighing just 1.6 pounds. The device has been designed for ease of use, with simple one-button operation, and features a 3.5-inch display with 320x240 resolution to provide firefighters with a superior optimized, clear and sharp thermal image. Intended for multi-use operations including fire attack and detail, the TXS Thermal Imager is powered by a long run-time Li-ion Battery.
"Each day that they go to work, firefighters risk their lives to help others. Tools like the TXS Thermal Imager play a critical role in improving on-the-job safety for these brave men and women, by equipping them with the information they need to make what could truly be life-or-death decisions," said Wells Bullard, President and CEO of Bullard. "At Bullard, we've worked hard to create a decision-making thermal imager that can provide the high-quality thermal imaging necessary for keeping firefighters safe, while remaining budget friendly. Our hope is that, by making the TXS Thermal Imager available at an affordable price, more firehouses will be able to equip more firefighters with the life-saving power of thermal imaging."
The superior value and ease-of-use of the TXS make it a perfect tool to incorporate into a broader thermal imaging strategy. By equipping more firefighters with access to thermal imaging technology through the TXS, and simultaneously continuing to use Bullard's XT-series thermal imagers for more demanding situations and roles, firehouses can dramatically increase the on-the-job safety of their firefighters.
"We designed TXS to be a thermal imager that is used on every call, getting more eyes on the fire, and more imagers in the hands of firefighters," says Martijn Bosch, Bullard Thermal Imaging Product Manager. "By offering a clear and detailed image even in the toughest conditions, firefighters can make decisions based on the details and easy-to-understand temperature colorization TXS provides. It's an indispensable tool for firefighters."
As with all Bullard Thermal Imagers, the TXS Thermal Imager has been designed for durability and reliability no matter the environment.
Additional information about Bullard's TXS Thermal Imager is available here.
About Bullard
Founded in 1898, Bullard is a leading manufacturer of high-quality personal protective equipment and systems that are marketed worldwide. The company is a fifth-generation family-owned enterprise, highly respected for its invention of the hard hat in 1919. Today, Bullard's product lines include hard hats, thermal imagers, firefighter and rescue helmets, supplied air respirators, powered air-purifying respirators, and air quality equipment.
More information about Bullard is available here.

Request more info from Bullard
Thank You!