PRESS RELEASE
Dinges Fire Company hires new Chief Integration Officer
---
Proven sales professional Carl Butzine to oversee sales for Dinges Fire Co. and Lion Training Products as company continues Midwest expansion
AMBOY, IL – Dinges Fire Company is pleased to announce the hiring of Carl Butzine as Chief Integration Officer. Carl will oversee the integration of new acquisitions and product categories. Carl will also be a part of the Dinges Fire Company Executive Team and integrate new products and services for the company, help train and hire personnel and work with online direct sales for all Midwest states. 
With an impressive track record, Carl brings more than 35 years of executive management and sales experience to Dinges Fire Company. He has overseen personnel from four to 450 people and has managed retail sales from $40M to $115M per year, working with big accounts such as Walmart, Target, Dollar General and more.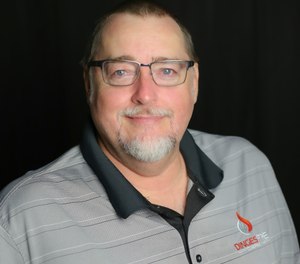 "We are thrilled to have Carl on the Dinges Fire Company Team," said Dinges Fire Company CEO Nick Dinges. "Carl is a standout guy with years of experience and years of proven success. He is the perfect person to oversee our strategic initiatives and we are confident he will continue to accelerate what is already shaping up to be a strong 2023 for the Dinges Fire Company." 
Dinges Fire Company (formerly E&B Fire and Safety, Inc.) was founded in 2001 to service local Fire and EMS agencies in Northern Illinois. The company acquired Time Emergency Equipment in Michigan, Safety First in Wisconsin, and Fox Apparatus Repair in Iowa, growing its footprint to four states in the Midwest and doubling the size of its team to nearly 30 members.  
Today, the firm has grown six times since 2016. The company has also developed product lines such as LeatherheadMetals.com and VanguardSafetyWear.com along with developing world class game-changing technology. Dinges Fire Company has also grown to 100+ members across the entire Midwest with the goal of being the largest and most progressive distributor in the USA. 
"I am so glad to be on the Dinges Fire Company team and can't wait to continue to grow the business and get the word out to Fire Departments about the great products we provide," said Chief Integration Officer Carl Butzine. "My brother has been in the fire industry for 45 years and I have the utmost respect for everyone involved. I also want to help firefighters stay safe and protected in any way that I can. The people and the atmosphere at Dinges Fire Company is second to none and I am so grateful to be here!" 
For more information on the Dinges Fire Company and its growth, visit www.DingesFire.com or follow us on LinkedIn, Facebook or Instagram. 
About Dinges Fire Company 
The Dinges Fire Company is the leading distributor of Fire, Rescue and EMS Equipment in the Midwest with over 110+ Team Members operating in Illinois, Wisconsin, Michigan, Indiana, Minnesota, Iowa, Missouri, North Dakota, South Dakota, and Nebraska.  Our mission is to protect our Nation's First Responders with high-quality products while providing unmatched customer service after the sale through a staff of highly educated team members supported by great technology. 
Dinges Fire Company was founded in 2001 and is headquartered in Amboy, Illinois.