PRESS RELEASE
Fire-Dex recognizes hometown hero, Jamie Brock
---
MEDINA, Ohio - Fire-Dex representatives, Todd Herring and Jessica Meade, presented the first Fire-Dex Hometown Hero award to Volunteer Firefighter, Jamie Brock, on November 8, 2016. Jamie received a beautiful award, a new Fire-Dex helmet and a pair of FDXL-100 Red Leather Fire Boots. Additionally, Fire-Dex will make a $500 donation to the charity of Jamie's choice.
Jamie has served his community in his volunteer firefighter role for more than 30 years. On September 28, 2016, he went above and beyond the call of duty. He heard on his pager of an active shooter at a local school, Townville Elementary School. He immediately rushed to the scene and without hesitation tackled the shooter. He detained the shooter until authorities arrived. His efforts were applauded as likely preventing others from being hurt.
Townville Fire Chief Billy McAdams spoke about how the community is doing after the terrible shooting incident. "We come together as a community as well as a county, state," Chief Billy McAdams said. "We've had a lot of support, a lot of good people helped us. So, tonight is basically the people that responded that day. It's our time to be together."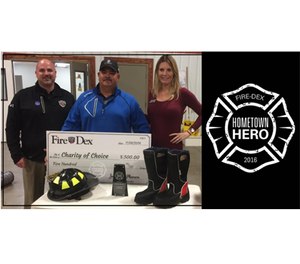 Join Fire-Dex in congratulating Townville Volunteer Firefighter, Jamie Brock, our first recipient of a Fire-Dex Hometown Hero award, for his heroic efforts on that fateful day.
About Fire-Dex:
Fire-Dex, headquartered in Medina, OH, is a leading manufacturer and marketer of protective firefighting clothing, emergency response apparel, NFPA hoods, helmets, gloves and boots. Fire-Dex proudly acquired TECGEN PPE in September of 2015, as it's latest addition to the Fire-Dex family of brands. Visit www.firedex.com for more information.

Request more info from Fire-Dex, Inc.
Thank You!