PRESS RELEASE
FoxFury Introduces the Futuristic Metal LED Fire / Safety Helmet Light
---
use if there is a picture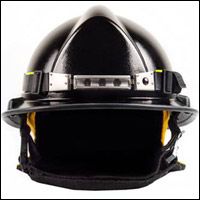 end picture
Vista, CA.- FoxFury is pleased to announce the sleek new 100 lumen Discover Tasker-Fire helmet light made of aircraft-grade aluminum. The Discover is tough, streamlined, utilizes high-powered CREE LEDs and has 2 light intensities (low and high). Its wider beam provides focused, peripheral and distance light to provide panoramic vision.
This model is intended for helmet use only. This includes fire and ballistic helmets, hard hats and other types of safety headwear (from recreational to industrial).
Runs on 4 AA batteries and includes a rear safety LED (flashing red) on the battery pack, which allows the user to be seen from behind.
Meets current NFPA Fire Resistant Requirements and is waterproof to 10 ft (3 m). Covered by a 2 year warranty, it features a removable (and easily replaceable) polycarbonate lens cover. 9.4 oz (266 g); MSRP: $109.99. Available now.
About FoxFury
FoxFury is best known for its niche LED headlamps designed for specific markets including Fire, Industrial, Hazardous Area, Law Enforcement, Hunting and Forensics. FoxFury was formed in August 2003 and operates out of Vista, CA.